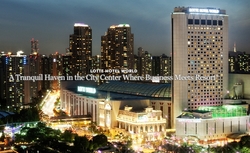 Seoul, South Korea (PRWEB) November 13, 2010
Every year, Business Traveller conducts a survey of its readers from around the globe for the best in hospitality, airline, and airport industries. In the 2010 Awards, Lotte Hotel Seoul was voted the Best Business Hotel in Seoul. Grand Hyatt Hotel came in second place, followed by Westin Chosun Hotel in third place. The results will appear in the October issue of the magazine. This is a meaningful achievement for Lotte Hotel Seoul as it is the first local hotel to earn the title, competing with international hotel brands like Grand Hyatt, Westin, and InterContinental.
The achievement is attributable to the hotel's recently-renovated state-of-the-art facilities and warm and caring services of the Korean people. Another positive is the strong competitiveness of the F&B division, such as the opening of PIERRE GAGNAIRE à Séoul, a restaurant by the 3-star Michelin chef Pierre Gagnaire. Lotte Hotel Seoul offers a total of 1,124 guest rooms, 759 rooms in the Main Building and 365 rooms in the New Wing.
The General Manager Suk Yang of Lotte Hotel Seoul is pleased that Lotte Hotel's potential has been recognized, being a local hotel group competing up against leading international hotel groups. Lotte Hotel promises to repay its guest with upgraded services and continue to develop going forward. The General Manager gave his acceptance speech at the Business Traveller's awards ceremony which took place in Hong Kong, on September 11 (Sat).
###