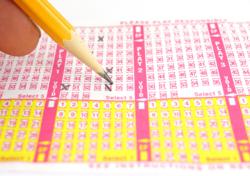 Massive Lottery / Lotto Jackpot Winners May Be One Step Away From Bankruptcy, and Need Quick Advice
Houston, TX (PRWEB) April 01, 2012
Winners of massive lotto/lottery jackpots need quick advice to avoid going on a path toward bankruptcy! Although many believe that once one wins the lottery they are set for life, in reality for many, trouble has just begun. The instant acquisition of a windfall of money may be overwhelming, and the winner often becomes the victim of bad investment advice, scam artists, big ticket purchases, and unending solicitation. Winners also may become targets of libel and slander lawsuits, and often go bankrupt, get divorced and have family feuds. One also needs to consider the taxes which are owed to the IRS. Improve.com addresses this critical issue.
According to "The Ticket to Easy Street? The Financial Consequences of Winning the Lottery," published in The Review of Economics and Statistics, "A comparison of Florida Lottery winners who randomly received $50,000 to $150,000 to small winners indicates that such transfers only postpone bankruptcy rather than prevent it, a result inconsistent with the negative shock model of bankruptcy." The study states that "1,934 Fantasy 5 winners were linked to a bankruptcy in the five years after winning. This match implies a one-year bankruptcy rate among lottery players of just over 1 percent, which is similar to the filing rate of 1.0 percent for all adults in Florida from 1993 through 2001."
Daryl LePage, a financial advisor in CT, has indicated "the reality is that 70 percent of all lottery winners will squander away their winnings in a few years…. In the process, they will see family and friendships destroyed and the financial security they hoped for disappear." LePage further goes on to say "we know from studies and our own internal research that when new wealth is created in a family, there is a 90 percent probability that all of the wealth will be gone by the third generation. And that's among families who have worked hard for years to achieve success. When people receive sudden wealth, like a lottery jackpot, the numbers are much worse."
Fortunately, many lottery winners have extremely positive stories to recount. Many have used the windfall to help family, build businesses, give to charities, and improve the lives of themselves and others. History has shown that sage advice is often critical to making the difference in how successful an individual will be after hitting the jackpot.
Improve.com has set up a newly created group dedicated to help address the needs of lottery/lotto winners. Within this group, several critical discussion topics are available, enabling lottery / lotto participants to exchange ideas and advice, and obtain advice from visiting experts. These discussion topics include :
1) Lottery winners: share your advice on do's and don'ts after hitting the jackpot
2) Do I buy lottery tickets often, or is this a one time thing?
3) What is my system for picking lottery numbers?
4) What did/would I do with my lottery winnings?
5) Are you happier since you won the money?
6) Money Managers/Accountants: Share investment advice with lottery / lotto winners
Winning the lottery is extremely fortunate and pleasant surprise, but can pose many challenges as well. Winners can often gain critical advice from other winners, through the sharing of stories, and from the advice of experts. Accountants and money managers provide advice as well.
Improve.com has the mission of improving the lives of its users. It accomplishes this goal by means of succinct articles, global rating systems, group discussions focused on specific topics, and allowing the user to constantly interact, share experiences, educate others, and be educated themselves. Join, grow, learn, educate, prosper, on improve.com. Sign up and join the improve community to improve your opportunity.