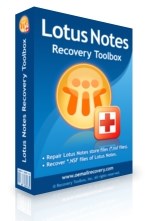 The new product is based on a blazing-fast proprietary recovery engine and outperforms all direct competitors.
Alexandria, VA (PRWEB) January 16, 2013
Recovery Toolbox, a well-known expert in the area of data recovery and file repair tools for many popular applications, is glad to announce the release of Lotus Notes Recovery Toolbox, a specialized solution that helps users restore data from corrupted Lotus Notes files on their own and without using expensive and often unavailable third-party services. This Lotus Notes recovery tool makes it possible to complete the recovery process simply by following the instructions of the intuitive recovery wizard that the program's interface is based on. The program supports NSF files created in Lotus Notes 2003 and above and does not need a copy of Lotus Notes to analyze a file. However, data saving is only possible with a copy of Lotus Notes in place. This Lotus Notes recovery tool does not alter the source files, which enables users to resort to any other tools and services if Lotus Notes Recovery Toolbox fails to restore their data.
"Lotus Notes is a wildly popular teamwork platform that stores data in its own format, which made it an obvious candidate for us. Since it's an enterprise tool, it may and does hold valuable business information, so we had to make sure it is accurate and fast," says, a Recovery Toolbox co-founder. "Since the release, the product has enjoyed steady demand and very positive feedback, so I am sure we did a good job with Lotus Notes Recovery Toolbox."
A demo version of Lotus Notes Recovery Toolbox with limited data saving functionality can be downloaded free of charge from the official website of the program. All Recovery Toolbox products have been thoroughly scanned and are 100% safe to download.