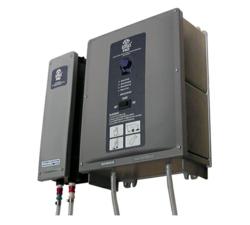 "The extended ozone effectiveness is a game changer for the ozone industry." exclaims Tersano Sales Director Brad Lucas.
Windsor, Ontario (PRWEB) September 01, 2011
After a lengthy research and development process and multiple patent applications, lotus PRO now includes a Series I or Series II Ozone Stabilization Module with each High Capacity chemical-free cleaning unit shipped. The standard Series I Module and the more powerful Series II option extend the lifetime of dirt and germ killing Aqueous Ozone levels by a factor of hours, rather than minutes.
"The beauty of Aqueous Ozone is that it cleans and kills germs and then over time turns back into water and oxygen," explains Tersano President and lotus PRO inventor Steve Hengsperger. "The problem was that it turned back too fast, losing it's sanitizing power in a matter of minutes. We've solved this problem with our Series I and Series II modules, achieving up 24 hours of sanitizing strength under laboratory conditions with the Series II."
With benchmark testing complete, shipping has begun to key accounts across North America, with full roll-out to all customers starting in mid-September. Featuring a proprietary engineered process developed over the last two years, Series I Stabilizer Modules will come as standard equipment with each new lotus PRO shipped, as well as replacing the Booster Packs that are currently used to extend sanitizing time. Series II Modules will be available as an option for customers who need long-lasting, maximum strength sanitizing power for large, remote and hard to clean areas.
"The extended ozone effectiveness is a game changer for the ozone industry," exclaims Tersano Sales Director Brad Lucas. "Now you can turn ordinary tap water into a safe, chemical-free germ killing cleaner that works for hours in everything from auto-scrubbers to spray bottles, but still leaves no cleaning chemicals and leaves no residues."
By keeping Aqueous Ozone's cleaning power at sanitizing levels for extended periods before reverting back into water and oxygen, this naturally occurring Oxy cleaner can make janitorial performance cheaper, better and faster. There are no toxic chemicals to buy, mix, spill and pour down drain. There are no hazards from splashing, fumes, skin or eye irritation, as well as greater productivity since there is no rinsing required as with most chemical cleaners.
"Without a doubt it makes the lotus PRO that much more versatile and powerful," added Hensgperger. Each module is fully recyclable, and on a per gallon basis replacement modules deliver more on-demand Aqueous Ozone -- at a fraction of the cost and carbon footprint -- of conventional and green cleaners.
The lotus PRO team will be on hand to demonstrate and explain Series I and Series II Ozone Stabilization and the entire lotus PRO product line at the upcoming ISSA/Interclean Conference in Las Vegas NV, October 18th to 2st, 2011.
###