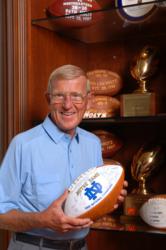 Nobody gives you anything in this world. You have to fight for it.
Seattle, WA (PRWEB) January 11, 2013
Lou Holtz Do Right training videos have been embraced by the corporate training world and Holtz has personally promoted new training videos for Carlton's Training Solutions. The transition from the tough gridiron to the hard workplace seems to suit him just fine. And Carlton's Training Solutions seems pretty pleased to have any Lou Holtz video from his management training on board.
Holtz is like any great leader. He listens to his people, he gives and receives respect, and most importantly, he ends up successful. But what does college football have to do with management training? If an organization is trying to create great leaders it's not a bad idea to study one; the lessons he's learned and what tenants make a leader a successful one. Holtz states, "Nobody gives you anything in this world. You have to fight for it."
If Enough People Care is part of the Holtz management training system. His proven results are underlined by the loyalty his team members have for him and for one another. The team needs to know that each of their teammates can count on them and that they can count on the team. In the workplace, things can get even more pressurized than a football game. And when it does weaker teams fall apart and turn on one another, while Hotlz's teams rely on one another and stay focused on their common goal.
Do Right is one of the training videos in the Holtz Library. In this program, Holtz shares his insights about doing right and all that encapsulates such as giving love and respect to fellow team members, being honest, and giving your absolute best. With these simple principles in place Lou built a strategy for success that has served him wherever he's gone.
Carlton's Training Solutions works to assist numerous Fortune 500 companies and healthcare organizations with their corporate training strategies. They provide education in areas such as chemical agents, management training, what is communication, what is diversity, ethics and conduct, generational differences, discrimination, innovation, employment hiring, what is employment law, team activities, how to open a meeting, performance appraisal, substance abuse, team building, customer service videos, telephone customer service training, trainer for trainers, and workplace violence.
Carlton's Training Solutions has found that a Lou Holtz video can leave a lasting impact on a company's management training. They have also found other business experts and world famous personalities for their programs such as Dewitt Jones, Catherine Crier, Ben Zander, Bob Farrell, Tom Peters, John Cleese, Morris Massey, Joel Barker, Ken Blanchard, and Stephen Covey. To view other topics on corporate training or learn more about Carlton's Training Solutions click here at their site carltonstraining.com. The Lou Holtz Do Right training videos have enabled the clients of Carlton's Training Solutions to be more inspired and driven towards their goals in this new year.