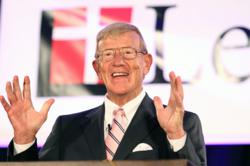 Life is ten percent what happens to you and ninety percent how you respond to it.
Seattle, WA (PRWEB) December 07, 2012
Carlton's Training Solutions is a corporate consulting firm based in Los Angeles that represents the Lou Holtz training videos. Holtz has been known for his winning ways at the five different universities he has coached. It is interesting to note that his winning ways are now being used by corporations and businesses throughout the world. It seems the message in the Lou Holtz videos is enough to attract the big clients of corporations like Carlton's Training Solutions.
Lou Holtz has guided the careers of people like any great manager. And like any powerful leader who has influenced others and made them great, he has his list of rules on how to get them there. He first makes sure there is a clear vision of where to take the individual and team. Then he sets a very detailed specific plan on how to get there. He then makes a point to lead by example. It is vital that a leader demonstrates the qualities he wants to see from his people. And most importantly he holds people accountable.
In the Lou Holtz video Do Right, Holtz explains that for the plan to be executed by employees the leader has to have complete faith in that plan and never deviate. The leader's belief and faith in the plan is what generates the team's input and the success of the goal and plan. Without it, all is lost. And attitude is the key. Holtz said, "Life is ten percent what happens to you and ninety percent how you respond to it."
If Enough People Care has often been called the team leadership program for its ability to inspire leadership but also create memorable and successful teams. Holtz attributes the success of this to senior leadership and how vital a role it plays. New managers are like freshmen and they need to model the seniors that have been in their shoes. The learning curve should be shorter each transition so the company learns not as an individual but the company as a whole.
Carlton's Training Solutions prides itself on finding the greatest people like Lou Holtz and discovering what makes them special. These corporate training videos by Holtz influence companies in a profound way. Throughout the years of success, Holtz has tweaked his plan and made people execute that plan until it is a polished version of its original state. Organizations that go to Carlton's Training Solutions for training take advantage of the time and experience in developing the plan featured in the Lou Holtz training videos.
About Carlton's Training Solutions
Carlton's Training Solutions became a corporate consulting firm in 1999 to assist companies that came to them for employee development and goal setting. Since that time Carlton's has strived to create an even wider assortment of programs to fulfill the needs of clients. They expanded into the realm of harassment training, diversity training, sexual harassment training, performance appraisals, performance management, workplace violence and customer service training to name a few. But to ensure the quality of the programs the best business minds were tapped. Tom Peters, Stephen Covey, Bob Farrell, Ben Zander, John Cleese, Catherine Crier, Joel Barker, Dewitt Jones, Ken Blanchard and Lou Holtz have all made their contributions to producing great quality corporate training videos for Carlton's clients. To know more about Carlton's Training Solutions or view other topics or programs, click here at their site http://carltonstraining.com