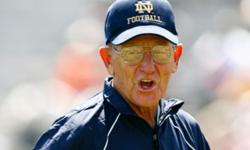 WIN, or what's important now will tell you what has to be done at each stage. Otherwise the goal is just a wish list.
Portland, OR (PRWEB) January 20, 2013
The Lou Holtz Do Right training videos with Carlton's Training Solutions do more than inspire companies. They give strategy to the chaos of the business world. Carlton's Training Solutions seized the moment by placing the Lou Holtz programs Do Right The Plan and If Enough People Care into their management training program.
Holtz defines success as setting a goal and then working with all you have to get to that goal. But what is the direction? What are some strategies that can be attributed to the business world? Holtz says, "WIN, or what's important now will tell you what has to be done at each stage. Otherwise the goal is just a wish list."
In Do Right The Plan, Holtz emphasizes the importance of resilience in management training. The ability to stay positive when things go wrong. He stresses that all successful people have been knocked down and have to get back up in order to achieve their goals. Every individual has the power to choose to win or wallow in self-pity. His program has been founded on making positive choices.
The training videos by Lou Holtz create change in organizations. His corporate training involves a program for teams called If Enough People Care. His theory is that if a manager raises the self-image of their people they will raise the productivity of their people. The program also stresses the tenants of Do Right. Be on time, know the difference between right and wrong, doing the best you possibly can, and treat others as you'd like to be treated. All of this raises the level and strength of the team.
Carlton's Training Solutions provides learning resources in areas as diverse as employment hiring, management training, leadership training, what is employment law, human resource management, team activities, substance abuse, team building, and customer service videos.
Carlton's Training Solutions has brought the Lou Holtz programs to the forefront of their management training initiative to make a difference in the corporate culture worldwide. They founded their organization thirteen years ago by formulating business plans for large companies looking to break out of the mold. So they culled the great business minds of the century and implemented them into their training videos. These people are John Cleese, Dewitt Jones, Ken Blanchard, Catherine Crier, Ben Zander, Lou Holtz, Bob Farrell, Morris Massey, Joel Barker, Stephen Covey, and Tom Peters. To view other subjects on corporate training or learn more about Carlton's Training Solutions click here at their site carltonstraining.com. The key to the success for Carlton's Training Solutions is finding great minds like Lou Holtz and bringing their training videos to the corporate training world.