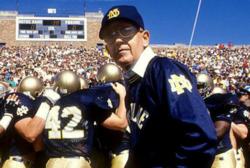 What can be accomplished by a team if enough people Care?
Miami, FL (PRWEB) November 26, 2012
Carlton's Training Solutions is presenting breathrough leadership with Lou Holtz training videos. Lou Holtz training videos have a winning record and Carlton's Training Solutions identifies the formula Holtz has for success and his winning ways in these programs If Enough People Care and Do Right the Plan.
It can't be luck. Holz has been in the leadership role at more than four Universities and all of them had losing records when he came in. What explains the success? Many leaders of corporations across the United States have bought into the philosophy as those leadership skills apply to the business world as well.
If Enough People Care is more than a commercially successful training program. This training video changes the way companies organize their teams and how they change the focal point of positions within a company. The question Holtz asks is "What can be accomplished by a team if enough people Care?" And the answer is astounding.
We all know the power of dynamic teams. Holtz has been able to turn around the teams that most needed his help. It's his ability not just to get a team working their best and together but giving their best at the same time. And in the business world as on the grid iron, timing and that element of working togther and caring all at once is crucial to any business. Holtz knows how to inspire the change that makes the difference.
Do Right the Plan is an amazing follow-up to the Do Right I and Do Right II corporate training videos by Carlton's Training Solutions. In this program he breaks his leadership style into components other great leaders can learn from. His power to galvanize others and follow his plan in unrivaled. Holtz has proven before Notre Dame, at Notre Dame and after that is doesn't matter where he is, he can take a losing team, turn it around with his belief system and succeed. Carlton's Training Solutions presents Lou Holtz training videos with the knowledge and change it can create in organizations that have long lasting results.
About Carlton's Training Solutions
Carlton's Training Solutions has represented the best leaders in training just like lou Holtz. Others implemented by Carlton's are Tom Peters, Dewitt Jones, Catherine Crier, John Cleese, Stephen Covey, and Bob Farrell. Carlton's has invested in corporate training video productions in the areas of harassment training, diversity training, leadership traning, sexual harassment training among others. To view training videos or learn more about Carlton's Training Solutions visit them at http://carltonstraining.com