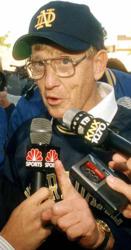 It's the greatest feeling in the world. To be a great as you possibly can be.
Chicago, IL (PRWEB) January 31, 2013
Carlton's Training Solutions found a refreshing management training tool in Lou Holtz videos. Corporations constantly want improvement and fresh perspectives and need tools to be more effective in their employee training. The Lou Holtz Do Right videos seemed to have filled a niche for Carlton's Training Solutions and their clients.
He wins. That's what corporations recognize in Holtz. The managers and leaders in corporations around the globe have themselves have had impossible expectations thrust upon them. Turn around an entire staff. Turn around an organization. Holtz has gone to college after college and took a losing team to a bowl the very next year. How? This is what business leaders want to know and they are signing up in droves.
Hotlz knows it's about a few elements he brings to the table. He inspires trust. His work ethic drives his teams to glory. And most of all he shows love towards his teams that will now fight to the death for him and to achieve their own destiny of being great. They know with him they will fulfill their own self expectations as well as his. Holtz says, "It's the greatest feeling in the world. To be a great as you possibly can be."
One program that captures his spirit is the Lou Holtz Do Right video. In this corporate training video Holtz demonstrates the importance of goal setting. It is crucial for organizations to not just set goals but also define what motivates these goals. Who has the responsibilities involved with accomplishing these goals? And most of all, there is the WIN factor. Holtz defines WIN as What's Important Now and taking care of those items immediately.
Do Right The Plan capitalizes on what can be accomplished by a team when all of the members believe in the goal and will each do their part to see it to the end. This program inspires leaders and prepares teams for battle by implementing a strategy of trust for team members so belief is maximized and the passion for the project is realized.
Carlton's Training Solutions has problem solved for some of the most vigorous and successful companies in the world. They have implemented strategies for clients in areas such as chemical agents, how to open a meeting, telephone customer service training, sexual harassment training, substance abuse, trainer for trainers, workplace violence, motivational videos, icebreakers, Muppet meeting openers, performance appraisal, performance management training, safety training, sales training, team building, project management, customer service videos, and time management.
Carlton's Training Solutions has driven management training to new levels with Lou Holtz training videos. They have also attracted world-renowned business leaders and celebrities and launched them in the training videos and strategies. These people include John Cleese, Dewitt Jones, Ben Zander, Stephen Covey, Ken Blanchard, Tom Peters, Joel Barker, Morris Massey, Bob Farrell, and Catherine Crier. To view other topics for corporate training or know more about Carlton's Training Solutions, click on their site carltonstraining.com. The Lou Holtz training videos continue to empower the corporate training initiatives and bottom line for Carlton's Training Solutions' clients.