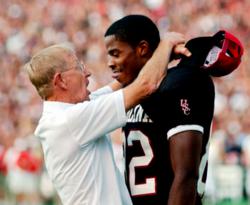 Nobody gives you anything in this world. You have to fight for it.
Boston, MA (PRWEB) January 02, 2013
Carlton's Training Solutions found the perfect fit for their clients' leadership training in football coach Lou Holtz. The former Notre Dame football coach has had winning records and unbelievable success at all five universities he has coached. All programs had losing records when he arrived. Carlton's Training Solutions believes Lou Holtz Do Right videos can turn around US organizations' human resource management as well.
If Enough People Care is a training video that features Holtz's philosophy on leading teams. Faith in the plan and believing in each other is what makes the fight worthwhile and makes the goal a reality. His teams have consistently come together even after losing seasons to win brilliantly because of the desire he instills in them. Holtz stated, "Nobody gives you anything in this world. You have to fight for it."
This is not the traditional leadership program. Many companies try to sort it out as they go and have managers wing it and force-feed the workload onto employees. The programs by Lou gives employees a plan to succeed that relies on their will, the belief in their co-workers and teammates and a willingness to give it their all.
Do Right highlights the simple belief system held by the legendary coach. Leading people is the same in any endeavor. Employees need respect, a goal, and love. With these elements employees feel they can achieve and are motivated as part of something bigger to give more. Inspiring employees is a manager's job and this program demonstrates a process in turning around performances and in quick fashion.
Carlton's Training Solutions provides education in areas such as change management, management courses, what is diversity, ethics and conduct, finance training, leadership training, what is employment law, human resource management, management, team activities, how to open a meeting, safety training, sales training, substance abuse, and workplace violence.
Carlton's Training Solutions saw right away that Lou Holtz Do Right programs and If Enough People Care could be beneficial to clients. Carlton's Training Solutions has found experts in various fields of business and featured them in training videos. This list includes Dewitt Jones, Ben Zander, John Cleese, Morris Massey, Joel Barker, Lou Holtz, Catherine Crier, Tom Peters, Ken Blanchard, Stephen Covey, and Bob Farrell. To lean about other topics on corporate training or discover more about Carlton's Training Solutions click here at their site http://carltonstraining.com/. Carlton's Training Solutions clients have invested in the Lou Holtz philosophy for the betterment of organizational effectiveness.