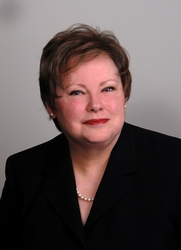 We are very fortunate to have found a professional of the highest caliber in Jane Gilbert
Calabasas Hills, Calif. (Vocus) March 23, 2009
Jane H. Gilbert has been appointed president and chief executive officer of The ALS Association, it was announced.
Gilbert joins The Association after serving as the senior vice president for chapter operations for the American Red Cross in Washington, D.C. In that post, which she occupied from 2005-2008, Gilbert was responsible for eight service areas and 760 chapters, leading a professional team of more than 350 full-time employees, managing a budget of $900 million and directing the administration of more than $30 million in chapter grants.
"We are very fortunate to have found a professional of the highest caliber in Jane Gilbert," said Allen L. Finkelstein, chairperson of The Association's National Board of Trustees. "She has an extraordinary record as a proven and widely respected leader and her accomplishments in fundraising, operations and strategic planning are strengths that will be critical in our drive to conquer Lou Gehrig's Disease."
As president and CEO of The Association, Gilbert has responsibility for the strategic direction and operations of the organization which directs the largest privately-funded research program into ALS and a national network of 42 chapters that deliver an array of services to people living with ALS. At the national level, Gilbert will oversee The Association's activities in research, advocacy, finance, development, community services, patient services, communications and operations.
"The ALS Association is a recognized leader in the fight against ALS, and as the new president and CEO, I will make sure that we earn that distinction everyday," Gilbert said. "My most important priorities are to intensify our aggressive focus on finding new treatments and a cure for ALS while we rededicate ourselves each day to providing the best and most compassionate care for people with ALS across our nation."
"I will lead this effort with a sense of urgency because people with ALS cannot wait; their survival rate is only two to five years from the time of diagnosis, a fact that I find totally unacceptable," continued Gilbert. "I view the fight against ALS as an emergency that requires an all-encompassing response that will not cease until a cure is found."
Prior to her American Red Cross position in Washington, D.C., Gilbert was the vice president of the Mid-Atlantic Service Area for the American Red Cross. Before the American Red Cross, Gilbert was the director of development for the Boys & Girls Clubs of Omaha.
Gilbert holds a master's degree in business from the University of Nebraska and a bachelor's degree in communications and speech from Southern Methodist University in Texas.
ALS (amyotrophic lateral sclerosis), which took the life of baseball legend Lou Gehrig, is a progressive, neurodegenerative disease that afflicts 30,000 people in America.
The ALS Association is the only non-profit organization fighting Lou Gehrig's Disease on every front. By leading the way in global research, providing assistance for people with ALS through a nationwide network of chapters, coordinating multidisciplinary care through certified clinical care centers, and fostering government partnerships, The Association builds hope and enhances quality of life while aggressively searching for new treatments and a cure.
###