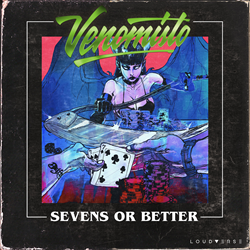 Dance Music for the 22nd Century
Parts Unknown (PRWEB) September 07, 2017
Solo artist VENOMISTO has released his second EP, Sevens or Better. This latest offering features original compositions ranging from four-on-the-floor dance numbers, to vibrant tropical soundscapes, to otherworldly post-apocalyptic epics.
VENOMISTO composes, performs, and produces all of the music. After playing in numerous bands, he wanted to bring his love of live instrumentation and dance music together.
"On one hand, there's been all this dance music blowing up. But a lot of it lacks the depth you get from thoughtful composition and live performance. Then there's this whole canon of music that I think is transcendentally awesome — it's just so out there it's not accessible for most people. This project is my way of bringing together both worlds."
A diverse effort from VENOMISTO, Sevens or Better draws on influences such as metal, fusion, latin, classical, hip hop, and of course, dance music. In his own words, VENOMISTO states, "I enjoy the music I'm making. It's what I want to listen to myself. I don't consciously set out to make a track in a specific genre or anything. Maybe I'll have a thematic idea, or an emotion I want to capture. I'll compose something on piano, or just beat on the drums and see where it goes. That's how I prefer to write. No preset tempos, time signatures, or rules that I have to try and conform to. It's like, just make something sick, put it out there, and let people make up their own minds."
Fans can purchase or stream Sevens or Better on iTunes, Spotify, and all the usual suspects. The EP is available now in the United States on LOUDVERSE. For more information, visit VENOMISTO's official website at https://venomisto.com or contact press(AT)loudverse(DOT)com.
About VENOMISTO
VENOMISTO is an expression of the ineffable — edgy yet educated, dangerous yet playful, unpredictable yet consistent. His vision of the world is not a nameless, genderless, cultureless morass of sameness, but a diverse collection of cultures and traditions that recognize and celebrate our similarities AND our differences.
VENOMISTO is Dance Music for the World. Dance Music for the 22nd Century.