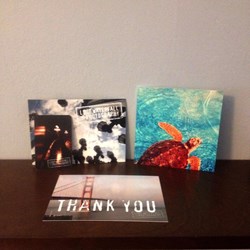 My photograph "Out for a Swim" depicts a turtle with seemingly not a care in the world, just swimming along. I'm a little envious.
Los Angeles, California (PRWEB) January 02, 2014
Photographer Chelsea Sullens, founder of L.A. based Loud Waterfall Photography (http://www.loudwaterfallphoto.etsy.com) will bring her 'travel + fine art photography—with a story' to GBK's Luxury Celebrity Gift Lounge in Honor of the 2014 Golden Globes Nominees and Presenters on January 10-11. Sullens' photos will be showcased on display and gifted to celebrities attending The Artisan Group® exhibit. The Gift Lounge will take place at an exclusive location in Beverly Hills, California.
Sullens will have on display for celebrities to view, a 12"x12" bamboo wood block of her image "Out for a Swim", which depicts a turtle with "seemingly not a care in the world; just swimming along." Celebrities picking up a highly sought after The Artisan Group swag bag will receive a signed 5"x5" mounted print of the same image.
"I'm honored to be able to share my photography at GBK's Golden Globes Gift Lounge," stated Sullens. "The photo "Out for a Swim" has its own significance for me and I hope the recipients will enjoy and find meaning in it as well."
"Out for a Swim" is available to purchase at Loud Waterfall Photo on Etsy.
Sullens traces her love of photography back to childhood and she pursued it as a major in college, paired with studies in art history. The duo helped shape her curatorial eye, as has her work with an extensive, world renowned fine art photography collection in Los Angeles. "This collection, as well as the collectors, artists, galleries I have been fortunate to work with has turned out to be more of an education than my classes were," she says.
Today, in addition to working with the private photography collection, Sullens owns Loud Waterfall Photography and sells her photographs through online marketplaces and at a by-appointment-only gallery at her residence. She has collectors from around the world..
Sullens is a world traveler, embarking on photo expeditions as time permits. She also enjoys exploring her local and regional surroundings and rarely goes anywhere without a camera or cameras at hand. Wherever she goes, Sullens usually returns with a large repository of images which she files away to revisit after time has passed, believing the distance gives her a fresh eye on the work and the ability to interpret it more richly.
She is also influenced by her extensive collection of travel-related artifacts, noting the objects "evoke memories and inspire creative moments long after my feet have left that soil."
While Sullens' photography is often travel-related, she is less interested in portraying iconic landmarks or tourist spots and more interested in depicting the hidden nooks and crannies of the places she visits. Even her popular Golden Gate Bridge photographs have a distinct point of view. "My aim," she notes, "is to show what is not seen."
Sullens is a fan of functional art and enjoys seeing beautiful images incorporated into the everyday world. To that end, she has developed a collection of home décor items that includes pillows, cushions, nightlights, coasters and custom magnets. "Art brightens up a room, whether it's on a wall or a sofa," remarked Sullens. "It accents our moods and thoughts and deeds."
In addition to the Golden Globes Gift Lounge, Sullens has had her photography gifted at the 2013 Primetime Emmys. She is a member of The Artisan Group and Female Photographers on Etsy (fPOE) and has been published in *Urban Lights*, a publication of the Los Angeles County Museum of Art.
Through Loud Waterfall Photography, Sullens donates a dollar of every print sold ito *Nothing But Nets," to provide mosquito nets for families in Africa.
To learn more about Loud Waterfall Photography, contact Chelsea Sullens by email. Become a fan on Facebook (LoudWaterfallPhoto) and Twitter (@LoudWaterfall). Shop Loud Waterfall Photography at loudwaterfallphotography.etsy.com, Society 6 (LoudWaterfallPhoto) and Zazzle (loudwaterfallphoto).
For more information about The Artisan Group, visit theartisangroup.org.
ABOUT LOUD WATERFALL PHOTOGRAPHY
Chelsea Sullens, founder of Loud Waterfall Photography (http://www.loudwaterfallphoto.etsy.com) has been in love with photography for as long as she can remember. Her photo archives tell the story of her life: her travels and her addiction to passport stamps, her affinity for being out of my comfort zone, the way she is mesmerized by architecture and the bustle of cities and how she loves to capture people in a moment when they are unaware of her presence.