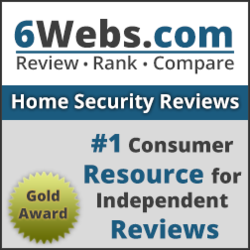 6Webs.com is the website consumers refer to when in the market for a home security system.
New Orleans, LA (PRWEB) April 06, 2013
6Webs.com, the leader in independent home security reviews, released their picks of the top home security system companies in Louisiana. In 2011 there were over 168,000 property crimes in Louisiana according to the Louisiana Law Enforcement Agency. Louisiana residents understand the importance of safety and now have an independent resource to refer to when shopping for a home security system.
Tim Smythe from 6Webs.com announced, "The 6Webs.com review team announced FrontPoint Security as the best home security company who conducts business in the state of Louisiana. FrontPoint Security is also the national Gold Award winner at 6Webs.com. They achieved this ranking due to several factors but the one that stands out the most is their ability to deliver outstanding service to their customers. FrontPoint Security is one of the only home security system companies that offers their customers a 30-day money back guarantee."
The top ranked home alarm companies on 6Webs.com all offer wireless home security systems and cellular monitoring services to their customers. FrontPoint Security is one of the few companies that includes cellular monitoring as standard where most other companies it is only available through their upgraded plans. Cellular home security monitoring is a far superior monitoring technology compared to phone line or Internet-based monitoring. Cellular monitoring is 100% wireless so there are no wires for a burglar to cut from outside the home.
About 6Webs.com
6Webs.com is the leading provider of independent and unbiased home security systems reviews. 6Webs.com is focused on delivering up to date home security information as well as side-by-side comparisons of the top home security companies in the nation. Consumers can easily compare the features and services offered by the leading home security system companies by visiting 6Webs.com the leading consumer resource for home security reviews.
For the latest tips and information on home safety visit the 6Webs.com blog where consumers will find a wealth of information that helps to keep families and homes safe.