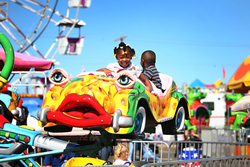 The State Fair has a special Opening Day deal for you.
Shreveport, LA (Vocus) September 30, 2010
Shreveport-Bossier, LA (Vocus) September 30, 2010 -- Football, zydeco music, thrilling rides and games of all kinds all go together like a good pot of zesty gumbo at this year's State Fair of Louisiana, Oct. 21-Nov. 7. Fair organizers have simply outdone themselves this year.
For the first time, the Shreveport Classic will be played in conjunction with the fair. Texas' Prairie View A&M Panthers will take on the Southern University Jaguars, Oct. 23 at the nearby Independence Stadium. The halftime showdown of the two bands will be as competitive as the gridiron action between the two powerhouse football teams.
There will be big fun under the big top with a daily circus and an exciting midway of 60 rides including the Expo Wheel, Cliff Hangar and more. What's a fair without turkey legs, nachos, funnel cakes, popcorn and other great festival foods? Come get your fill of it.
Take a camel ride and encounter elephants and tigers at this year's Ultimate Safari. Other events and performances include PJ the Clown, Balloon-a-tics, Washboard Willy, and more.
If that's not enough, there will be 14 days of toe-tapping, hip-swaying music -- free with fair admission. Some of the featured bands include the Dixie Traditions, the Bellamy Brothers, Wayne Toups & Zydecajuns, and Midnight Star. Check the State Fair's website for a complete list of entertainment. http://www.statefairoflouisiana.com/entertainment.aspx
More exciting fair firsts are the World Championship Blacksmiths Competition, Oct. 22-24 at the nearby Louisiana State Exhibit Museum, and the Arena Cross motorcycle competition at Hirsch Coliseum, Nov. 6.
The State Fair has a special Opening Day deal for you. Admission and parking are free on Oct. 21 from 10 a.m. to 3 p.m. From 3 p.m. to 10 p.m., admission and parking are $1 and Bill Lowery Carnival rides are $1 each. Many food items also will be $1.
After opening day, ticket prices are $8 for gate admission or $28 for an all-inclusive pass that includes admission and rides. Fun passes cost $75 per person for all 14 days of fun.
For more information call 318-635-1361.
The State Fair's website has details about hotel packages starting at $74 a night (http://www.statefairoflouisiana.com/specials.aspx ). Visit http://www.shreveport-bossier.org for a complete list of accommodations.
Shreveport-Bossier is full of relaxing modern conveniences wrapped in welcoming Southern charm. We take care of our visitors like family, filling you up with our tastiest food and treating you to as much entertainment as you want. We are Louisiana's Other Side, and here, we are a mix of spicy Cajun attitude and wide-open Texas spirit. We took the tastiest of Louisiana and the best of big Texas and blended it into our own brand of entertainment and fun. With so much to do in Shreveport-Bossier…why go anywhere else? Fall in love with Shreveport-Bossier! To learn more about all there is to see and do in Shreveport-Bossier, visit http://www.shreveport-bossier.org .
###