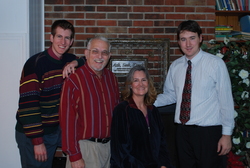 "Everyone can learn to read," says Deborah. "Sometimes what students need the most is a friend who will believe in them and never give up."
Shepherdsville, NY (PRWEB) December 28, 2009
English and reading tutoring, conference speaking, and educational consulting is now offered by Twin Eagles Institute, LLC (TEI). Founder, Deborah Cooper, M.Ed., hopes to help students soar in every part of their lives. After gaining a dual masters degree in Psychology of Reading and Physically Handicapped and decades as a tutor in public and home education, this English tutor Louisville is delivering lectures at conferences and one-on-one aid to parents and teachers in order to ease their stress and speed their success.
As part of the company's marketing campaign, its website showcases the stories of students who achieved higher scholastics and happier hearts. "It's not just the academics," Deborah is mindful to communicate. "It's about the child's success throughout all of life; so, special attention should be invested in the intellect and in the heart." The company assumes that the mind cannot work well on an empty soul. "One student could not learn to read until he forgave his father, who had left his mom," Deborah recalls. "Then, the techniques took effect, and his grades skyrocketed."
The experiences of students seem to reveal the approach's wisdom. One of the new company's website testimonials is from Edith Basinger, a struggling learner in 1973. In 2009, the former pupil shared that Deborah unlocked her mind to learn and that Deborah calmed her soul during troubled times; "Her guidance as a teacher and confidante was so helpful in keeping me focused on my role as a student." The company threads the theme of scholastic success and friendship throughout the other testimonials - testimonials from parents, from young students, from a successful CEO, and from the director of the Learning Disabilities Association of Kentucky. Deborah, a reading tutor Louisville, connects deeply with each student in order to connect each one to success.
In addition to connecting tutoring students to success, Twin Eagles Institute connects educators with the insightful techniques of other practitioners. The website contains a page of aids for parents and teachers; furthermore, during consultation, specific tools are revealed and highlighted for a client's unique situation. The former Title 1 Reading Specialist and Resource Room teacher states, "There are many low-cost, high-effect strategies, and I am passionate about matching old problems with known solutions." By connecting educators with resources, the tutoring company in Kentucky hopes to multiply its imprint on young lives.
Beyond one-on-one tutoring and consulting, Twin Eagles Institute hopes to help educate with presentations at conferences. Deborah highlights successful techniques with illustrative stories from the lives of students. "Everybody needs inspiration at some time, and I find that stories refine our vision and recharge our motivation to care deeper and instruct better," Deborah claims. "I like interactive, hands-on classes because these sessions allow every member to join in the active, guided journey toward mastery." The Louisville English teacher informs and inspires.
For the wife of almost three decades and home educating mother for two decades, the transition into business owner is an exciting season. "Tutoring is what I love," said the English teacher and Reading Specialist. "It warms my heart to watch my students and my own children flap their wings and fly. With Twin Eagles Institute, I get to help more people soar to a brighter future."
###