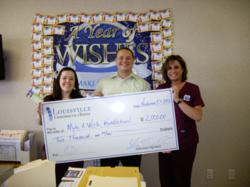 I've been blessed to be in a position to help people both physically and financially...and I do not planning on stopping either anytime soon!
Louisville, KY (PRWEB) November 28, 2012
Shawn Martin is the founder of Louisville Chiropractic Rehab, known for it's unique blend of chiropractic and therapy. This unique blend keeps a patient in pain from having to visit one office for Chiropractic and another for physical therapy. You can see a video tour of the office at http://LouisvilleChiropracticRehab.com/live-office-tour/
Dr. Martin's latest philanthropic project is a $5000 fundraising campaign to his favorite charity, Make-A-Wish. "What we do is offer a complete work up on our practice members during their first visit in exchange for a $49 donation to Make-A-Wish. We want to make it easy AND affordable for an individual to find out if we can help them or not. With our system YOU get the answers you're looking for and Dr. Martin exchanges his time to raise money for children...it's a beautiful thing."
Louisville Chiropractic Rehab opened it's Blankenbaker Pkwy location in May, 2011. "The office was designed to give our practice members the most beautiful and advanced clinic possible...and change the perspective people have about Doctor's offices. We make your visit as enjoyable as possible. We have 6 complimentary coffee flavors, chocolate chip cookies, 5 televisions, a kids area...the list goes on. People feel comfortable here. I can't say that about most healthcare offices."
Dr. Martin has gone as far as to create a "5 Item Checklist" of things someone should look for when they are looking for a Chiropractor. He believes it to be so important he posts it right on the front page of his website Click Here To See the 5 Important Things To Look For When Choosing a Louisville Chiropractor
For more information about our unique Louisville chiropractic office, or to help/inquire about our fundraising efforts please click here for more info.