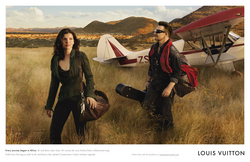 "Ali has worked hard to build Edun from scratch, and thanks to LVMH's commercial muscle support, this fledgling company can go from strength to strength - which means increased business for our partners in developing countries." - Bono
New York, NY (PRWEB) September 27, 2010
Ali Hewson and U2-vocalist Bono - founders of Edun - are the latest modern icons to be photographed by Annie Leibovitz for Louis Vuitton's Core Values advertising campaign, shot in Africa in March of this year.
Antoine Arnault, head of communications at Louis Vuitton, comments: "We are delighted that both Ali and Bono, who have never before participated in an advertising campaign, agreed to be photographed for Core Values. We are very proud of our association with Edun."
The image, portraying Ali and Bono walking in a vast landscape, reflects the couple's long relationship with Africa. Both are long-term campaigners in the fight against extreme poverty and in 2005 they founded the ethical clothing label Edun to encourage trade with Africa and to highlight the possibilities for the fashion community to do business there. In 2009, LVMH, in line with its long-standing commitment to sustainable development, acquired a 49% stake in Edun in order to promote more widely the brand's positive vision of responsible trade.
For the Core Values campaign, both Ali and Bono wear Edun clothing. Ali carries a Louis Vuitton/Edun collaboration bag. This collaboration bag is a brown Keepall 45 in Louis Vuitton's embossed Monogram Révélation leather. The bag is accessorized with a Monogram charm hand-crafted in Kenya by Made, a fair-trade fashion accessory company which strives to provide employment and promote ethical trade in Africa. Made regularly partners with Edun. Both the charm and the inside of the Monogram Révélation bag bear a plaque with the inscription "Every journey began in Africa." Along with his guitar case, Bono carries a waterproof Keepall travel bag in Monogram canvas.
Proceeds from the sale of the Louis Vuitton/Edun collaboration bag will go to TechnoServe in Africa for the Conservation Cotton Initiative and related programs. Ali and Bono's fee for the shoot will go to both TechnoServe in Africa for the Conservation Cotton Initiative and related programs and to Chernobyl Children International.
Edun founder Ali Hewson says, "We want Edun to be a success because the more it grows, the more we can do on the ground."
U2-vocalist and activist Bono says, "Ali has worked hard to build Edun from scratch, and thanks to LVMH's commercial muscle and support, this fledgling company can go from strength to strength – which means increased business for our partners in developing countries."
Discover the story of the Louis Vuitton, Bono, and Ali Hewson campaign on Louis Vuitton Journeys.
About Louis Vuitton
The world leader in luxury, Louis Vuitton has been synonymous with the art of stylish travel since 1854. Since 1997, with the arrival of the designer Marc Jacobs, it has extended its expertise to women's and men's ready-to-wear, shoes, watches and jewelery, combining traditional craftsmanship with flair and innovation to create a complete lifestyle experience. Since 1987, it has been part of LVMH Moet Hennessy Louis Vuitton, the world's foremost luxury goods group.
About Edun
Launched in 2005 by Ali Hewson and Bono, Edun is a for-profit fashion company founded on the premise of trade for aid as a means to alleviate poverty through sustainable employment and growth. In Africa, its aim is to encourage trade and raise awareness of the possibilities there. In 2007, the company launched Edun Live, a blank T-shirt division that is 100% "grow to sew" African produced. In 2009, LVMH took a substantial stake in the company. Edun is sold in leading department and specialty stores worldwide, and is available at the Merci store in Paris.
About Conservation Cotton Initiative
The Conservation Cotton Initiative (CCI) is a program established by Edun and the Wildlife Conservation Society (WCS) to help local cotton farmers build sustainable communities by promoting biodiversity, education and health care whilst providing a fair market for their cotton. CCI teamed up with Invisible Children (IC) to create CCI Uganda in Gulu, a district in Northern Uganda that is recovering from a violent civil war, which lasted over 20 years. Almost two million people were displaced, forced to live in IDP (Internationally Displaced Persons) camps and suffered from disease, poverty and starvation. Gulu is an area where agriculture once thrived, in particular, cotton growing. By joining the CCI program farmers are provided the opportunity to return back to their land and are given the funding and tools necessary to get back on their feet by growing cotton. CCI notably grows cotton for the Edun Live range of blank T-shirts, launched in 2007, which are entirely produced in Africa.
About TechnoServe
TechnoServe is a leader in a movement that empowers people in the developing world to build businesses that break the cycle of poverty. Growing enterprises generate jobs and other income opportunities for poor people, enabling them to improve their lives and secure a better future for their families. Since its founding in 1968, the U.S.-based nonprofit has helped to create or expand thousands of businesses, benefiting millions of people in more than 40 countries. The Financial Times has rated TechnoServe one of the top five NGOs for corporate partnerships. TechnoServe's corporate partners include Cargill, The Coca-Cola Company, General Mills, Goldman Sachs, J.P. Morgan, Nestlé-Nespresso, Olam International, Peet's Coffee & Tea and Unilever, among others. Charity Navigator has also awarded its highest Four Star ranking to TechnoServe for four consecutive years.
# # #