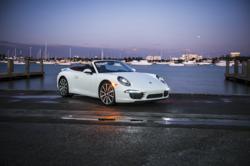 There is nothing that balances refined beauty and raw power quite like this convertible
Miami, FL (PRWEB) January 08, 2013
Lou La Vie is proud to announce the Porsche 911 Carrera S rental as the most recent addition to its impressive luxury sports car rental fleet, and for a competitive price. Compared to other luxury car models in the Lou La Vie fleet, such as the Lamborghini Gallardo LP540-4 Spyder or the Ferrari 458 Spider, the Porsche Carrera S Cabriolet is a more affordable option that shares similar elegance with its exotic counterparts. Porsche enthusiasts in Miami, Palm Beach and even Orlando can finally indulge in the Carrera S experience by renting for a fraction of the cost of ownership.
The affordability of Lou La Vie's newest acquisition makes it accessible to the South Florida community and at no expense in quality.
The price point allows prudent couples who are looking to drive a luxury convertible for a special event, such as a honeymoon, anniversary, or birthday, the option of driving one without the burdensome cost of buying and owning the Porsche, which comes with an MSRP of $135,500. It also serves as an option for test-driving a vehicle before purchase, which offers prospective car buyers an unbiased method of experiencing a car without the challenges or limitations of test-driving the vehicle at a dealership.
In 2012, Porsche re-invented the 911 line-up, known internally as the Porsche 991, by incorporating a new body style and various mechanical improvements. As a result, the updated 991 models are more powerful, light, and fuel-efficient than the older models and have improved noticeably in responsiveness and agility. The Carrera's classic white exterior is reminiscent of 1960s Porsche racing cars yet boasts a modern red convertible top and is equipped with a BOSE surround sound system.
Customers who have experienced the Porsche remark on how luxurious, agile, and refined the vehicle seems. "The Porsche Carrera has made driving any other car an irrelevant experience. There is nothing that balances refined beauty and raw power quite like this convertible," says a customer from the Lou La Vie website. This same luxury car owned by actors and used in major motion pictures is now an available rental at Lou La Vie. For example, celebrities such as Patrick Dempsey, Miley Cyrus and David Beckham own the Porsche 911 Carrera S, and the older model of the 911 Carrera also made a cinematic appearance in "Twilight: New Moon."
Interested customers can get more rental information on the Porsche 911 rental by visiting Lou La Vie.
About Lou La Vie
Lou La Vie is a privately owned corporation created to satisfy the growing demand for the rental of luxury and exotic vehicles in Miami and South Florida. We offer the finest automobile rentals featuring the latest models from car brands such as Lamborghini, Ferrari, Maserati, Audi, and Porsche. Our company goal is to offer the perfect selection of the finest exotics and luxury cars as well as premium rentals for longer term needs.