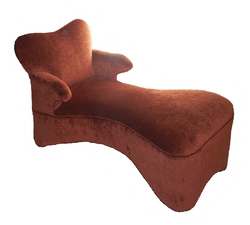 Designed primarily to enhance and maximize your sexual experiences, the INTIMA Lounge Chair is stylish enough to fit into any bedroom décor
Houston, TX (PRWEB) February 13, 2008
The Escobar Company has designed and built the first dual purpose lounge chair. The INTIMA Lounge Chair provides a place for you to discover new, incredible and thrilling sensations with your spouse during your most intimate times together. The INTIMA Lounge Chair is an elegant piece of furniture inspired by the curves and beauty of the human body and the flow of passion created during the most intimate times a husband and wife can have.
The Escobar Company has taken the concept of the traditional Victorian style chaise lounge chair and modified it to allow freedom of movement combined with ideal ergonomic support for a couple during lovemaking. The ultimate purpose for the INTIMA Lounge Chair is to provide you with surpassing pleasure and amazing comfort while still being purposely functional. "Designed primarily to enhance and maximize your sexual experiences, the INTIMA Lounge Chair is stylish enough to fit into any bedroom décor," says owner and designer Ricardo Escobar.
The INTIMA Lounge Chair has dimensions that help the human body accommodate rest and support itself in various amazing positions during intercourse, allowing for more comfortable and uninhibited verbal, visual and physical interaction. By its design, the INTIMA Lounge Chair allows you to breath normally in order to achieve maximum sensations and prolong your lovemaking experience.
The guitar-like hourglass shape of the INTIMA Lounge Chair complements the curves of the human body to allow free movement on a comfortable yet supportive surface. Ultimately and intimately, the INTIMA Lounge Chair provides the perfect place to say, "I love you," and the perfect means to create a long-lasting, satisfying and vibrant marriage for you and your spouse.
Slated to be available in the Summer of 2008, The INTIMA Lounge Chair (Patent Pending #60/945,929) will be offered with a choice of fabric selections to match any décor.
Ricardo Escobar is the owner of the Escobar Company and designer of INTIMA. He was born in Honduras, earned his Bachelor degree in Business from Ouachita Baptist University and is now a U.S. citizen. Escobar is an entrepreneur and ordained pastor currently residing in Houston, Texas with his wife and three children. For more information or to custom order your INTIMA Lounge Chair, send email to rescobar@msn.com or call the Escobar Company at 713.829.3140.
###