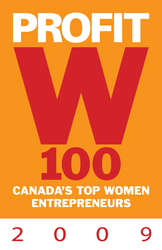 The 2009 PROFIT W100 shatter the stereotypes about female business owners
Oakville, ON (PRWEB) October 19, 2009
Lovable Labels (http://www.lovablelabels.ca), a company built on a reputation of providing parents around the world premium quality, kid-durable, personalized labels and an array of products to label belongings; is proud to announce their President, Laura Porreca was ranked 89th in the 11th annual PROFIT W100 ranking.
Ranking Canada's Top Women Entrepreneurs on a composite score based on the size, growth rate and profitability of their businesses, the PROFIT W100 profiles the country's most successful female business owners. New for 2009 is the Up and Comers list, a ranking of 10 successful up-and-coming women entrepreneurs whose companies are still in the emerging phase. Published in the November issue of PROFIT and online at http://www.PROFITmagazine.ca, the PROFIT W100 is Canada's largest annual celebration of entrepreneurial achievement by women.
"Our success is driven by our loyal customers, our dedicated Lovable Labels team, and our ability to deliver unique and useful products with unparallel customer service." says Laura Porreca. "We expect to experience continued growth as we further develop and add new and innovative products while building our customer base. Lovable Labels has come a long way and we are just getting started. So, stay tuned, engage, and join us on this wild and crazy ride."
" The 2009 PROFIT W100 shatter the stereotypes about female business owners," says Ian Portsmouth, Editor of PROFIT. "Canada's Top Women Entrepreneurs lead fast-growing companies in a broad array of business sectors. They're also innovative management thinkers and inspiring team leaders whose firms are particularly well positioned for the economic recovery."
About Lovable Labels:
When Laura Porreca was ready to send her child off to daycare for the first time, she quickly discovered that she was not the only frustrated parent while looking for the best solution to ensure her little ones "stuff" came home with him every day. After researching the market and testing the different products available, Lovable Labels was born. Today, Lovable Labels sells it's fun and durable labels online to fill the need globally. Their product line along with their company has grown. Products now include everything from labels for baby's sippy cups and young kids lunch boxes to Medical ID Wristbands and Allergy Alert labels. Of course, Mom is not left out with their ``Spice It Up`` labels and ``Connect With Me™`` cards. Visit http://www.lovablelabels.ca
About PROFIT Magazine:
PROFIT: Your Guide to Business Success, is Canada's preeminent publication dedicated to the management issues and opportunities facing small and mid-sized businesses. For more than 25 years, Canadian entrepreneurs across a vast array of economic sectors have remained loyal to PROFIT because it's a timely and reliable source of actionable information that helps them increase their revenues, boost their profitability and get the recognition they deserve for generating positive economic and social change. Published six times a year by Rogers Publishing Ltd., PROFIT is distributed almost exclusively to the chief executives of companies with 5 - 250 employees and annual revenue of $1 million to $25 million, reaching more than 300,000 readers across Canada. Visit PROFIT online at http://www.PROFITmagazine.ca.
###