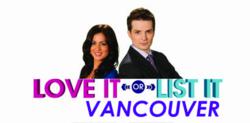 "Last year, television producers spent over $500 million in the local BC economy."
Vancouver, BC, Canada (PRWEB) January 08, 2013
Film and television has been a large part of the BC economy for several years now. As the fourth largest center of film and television production in North America, BC is known as a premium destination for producers.
The latest show to reach Vancouver is an offshoot of the wildly popular "Love it or List it"; a reality series where homeowners shop for new homes while their current home is remodeled. Will the homeowners stay put, or move on to greener pastures? A simple premise, but it has proved to be very popular.
The original series was set in Toronto, quickly becoming a hit for the W network, and its production company Big Coat Productions. Now they hope to continue that success by leveraging Vancouver's premium real estate market, and a few familiar faces (such as former Bachelorette star Jillian Harris).
A reality series like this is always a boon to the economy. Television production requires directors, cameramen, sound engineers, and coffee fetchers of the highest quality. Reading the credits at the end of a show would be impossible without a pause button. Each of those positions brings a pay-cheque.
Last year, television producers spent over 500 million dollars in the local BC economy. It was the same story in 2010. This year, projections indicate that those numbers will be surpassed. But these numbers do not tell the full story for BC business.
Budgets are not limitless, and where a producer can save a few dollars, they will do so. Local professionals contracted for work are offered exposure to national audiences in exchange for their efforts. In this way, a show can offer the high quality that an audience would expect, without needing to pay top dollar.
The Toronto edition of Love it or List it has compiled a list of 270 suppliers that leveraged the show for exposure, whether it was supplies from Behr paints or vehicles from Toyota Automotive. The Vancouver edition has already tapped local businesses for their help. Dynamic Gutters and Exteriors and North Vancouver's Affordable Quality Roofing are confirmed as suppliers for the upcoming season.
Bryce Osborn of Dynamic Gutters says the move builds trust in the community for his business. "We put a lot of effort into doing things the right way, but we don't always have the chance to show that to people. Showing the quality of our work to a wide audience is huge for us."
Terry Stone of Affordable Quality Roofing shared a similar sentiment. "People trust what they can see. Mike Holmes and Bob Vila were just ordinary contractors before their spot on television. Now those names carry weight with a wide audience of people."
The original series is now in its fifth season on the W Network with no signs of slowing down. If that same success can be duplicated in Vancouver, there will be many opportunities for local professionals to show their stuff to an international audience spanning both of Canada and the U.S.