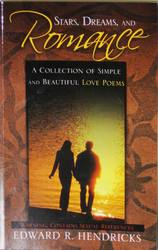 My Children (The Earth Speaks) and
Kansas City, MO (PRWEB) July 8, 2009
"The world's most deep hearted book of love poems". And it does not fail to deliver on that promise. In this incredible, must-read book, Hendricks shares with the reader his thoughts and ideas on romance.
Written in a plain, easy-to-read and understand style, he wants the world to open their hearts and minds to the power of love in a way that they may have never experienced before.
And when not writing about love, compassion for humanity takes over with the poignant message in "Of Mom and Oprah" and the sentimental tribute to Barack Obama in "Yes We Can, Yes I Did" to the endearing messages of "My Children (The Earth Speaks) and "The Heart To Win" and the powerful non-violence message of "One Gun". And his tribute to women of the world in the "World Love Poems" section.
About the author:
Edward R. Hendricks is a poet and writer that resides in Missouri. Ed's hobbies are running, cycling, working out and learning new languages. Hendricks believes in the power and beauty of love and he expresses those in a way that is clear for anyone to interpret. He wants the reader to experience his thoughts about love with him. From the warmth of a summer's day (and night) to loving through space, time, and the stars. Want to go with him? Then read this book and take a wonderful journey of the heart.
Soft cover, 5.5 x 8.5
Approximately 130 Pages
ISBN: 0-7414-5356-8
$11.95 retail price
Available at: http://www.Amazon.com, http://www.buybooksontheweb.com
###