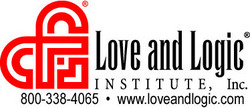 Love and Logic is happy to support the region's largest one-day food, toy, and clothing drive
Golden, CO (Vocus) November 12, 2010
With Colorado unemployment rising to 8.2% (September 2010, Colorado Department of Labor and Employment), many families are struggling to make ends meet and put food on the table. Love and Logic Institute, Inc. is helping families in need by donating 3,135 pounds of food to the 28th Annual 9Cares Colorado Shares Holiday Drive. The drive takes place this Saturday, November 13, at 34 sites throughout Colorado.
Love and Logic is happy to support the region's largest one-day food, toy, and clothing drive. The Love and Logic staff understands that a lot of families are suffering due to the poor economy and that every little bit helps. Love and Logic participated in the 9Cares Colorado Shares Corporate Challenge with the staff collecting non-perishable food items from October 13 through November 10.
All of the food collected will be distributed to the local food banks in those areas. For a list of food banks go to 9NEWS.com and look for the 9Cares Colorado Shares button on the Community page.
Love and Logic® Institute, Inc. (http://www.loveandlogic.com) is dedicated to making parenting and teaching fun and rewarding, instead of stressful and chaotic. They provide practical tools and techniques that help adults achieve respectful, healthy relationships with their children. All of their work is based on a psychologically sound parenting and teaching philosophy called Love and Logic®. For more information visit loveandlogic.com.
9Cares Colorado Shares is a not-for-profit 501(c)3 organization established in 1983 to help Colorado's less fortunate families. 9News began the program 28 years ago in its parking lot. Their mission of helping Coloradoans in need still remains at the core of what they do. Last year, they collected a record 202 tons of food and $125,000, helping thousands of families.
CONTACT:
Maggie Young
Love and Logic® Institute, Inc.
Phone: 800-338-4065
Fax: 800-455-7557
Maggiey(at)loveandlogic(dot)com
http://www.loveandlogic.com
###