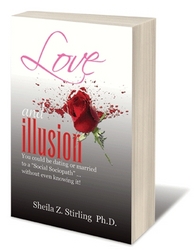 "It is not a game, it's your life" "Awareness is the first step towards change"
Las Vegas, NV (PRWEB) October 29, 2010
In the book Love and Illusion it states that people have all been led to believe that sociopathic behavior is rare and can be seen from a long distance. This is an Illusion and a dangerous one at that! The "Social Sociopath" blends in. Chances are you know one at this very moment.
One in every 25 adults in this country are acting out this appalling behavior, with absence of conscience, guilt, remorse, or regard for any feelings other than their own.
In this book it states that most people already know one of these charming creatures and just don't know it.
Dr. Stirling uncovers the Secrets that go on behind what we can see in a relationship, where the "social sociopath" is residing. She reveals chilling and accurate information that people must know to protect themselves from these frogs cleverly disguised as a prince!
"Love and Illusion" is a groundbreaking book that sheds light on a potentially dark subject. It touches all of the emotions in a rainbow. It is thrilling; heart warming, mesmerizing, riveting and heart breaking.
Four case studies are beautifully depicted. They are true stories written by Survivors. The book is full of science, facts and is unique because it gives readers a clear pathway back to themselves
Dr. Stirling says, "Understanding or having knowledge of the true issues is key in any relationship. It is so important to know that some one carrying sociopathic traits is only in a relationship with themselves."
The book takes very complicated, emotional dramas and unwinds the causes behind the behaviors giving the reader a clearer perspective of what has happened to what they thought was a great love.
The survivors have shared their stories in their own words with a depth in their exploration about what happened and why.
Dr. Stirling personally survived her own 3-year relationship with a "Social Sociopath", a name that she created. She describes how this behavior was a catalyst and how she was able to turn disaster into inspiration.
he researched the facts and figures on hundreds of individuals that have semi-survived this relationship nightmare.
"My PR firm was honored to handle worldwide publicity for John Gray's blockbuster #l seller: "Men Are From Mars Women are from Venus." I firmly Believe that Sheila Z Stirling's new book," Love and Illusion….You Could Be Dating or Married to a 'Social Sociopath'….Without Even Knowing It" is the best book on relationships since John Gray's book." ----Bruce Merrin
The book is informative and encouraging. It exposes this dark behavior for what it is and brings comfort and answers to the millions of people affected by these encounters. Dr. Stirling offers readers an understanding for their heartbreak, disappointment and bewildering feelings that this dismantling
behavior creates. She also offers hope and a clear road way back to joy and self trust.
Love and Illusion breaks the spell!
She advises know the hunter before you become the prey.
Dr. Stirling experienced a near death experience in 1998. She was involved in a disastrous auto accident, and that is truly an up from the ashes story in itself. Miraculously she has recovered, and dedicates her life to impacting people's lives for the better. She is charismatic, intelligent and beautiful.
She is known as a catalyst for wellness and success. She is a professional intuitive and works with people to understand the underlying cause of problems in their lives. Increasing energy, joy and wellness and effectiveness are among her goals with her clients.
She teaches and speaks internationally. She is an author of books and a music
Composer.
She is staging a major all day seminar in Las Vegas in January 2011.
Eric, a major admirer of Dr. Stirling, commented on the book cover: "After reading the manuscript I was struck at how important this book may be. This chilling yet factual writing is a must read. This book could save someone's life....your life."
###