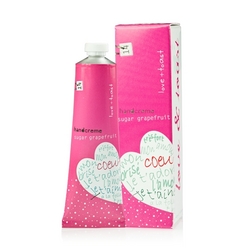 love&toast by Margot Elena is exhilarating hand cream, luscious lip balm, and passionate perfume!
San Francisco, CA (PRWEB) June 9, 2010
Finally. It's warm enough for sleeveless summer dresses, bare feet, and yummy Sugar Grapefruit lip balm. With a perfectly natural summer just outside the front door, it's time to celebrate! Love&toast by Margot Elena gives you reason to indulge in summer with your favorite fragrances and hand creams.
Summer dresses
What says summer with more exuberance than the perfect summer dress? Show your natural style with bared shoulders or a distinctive floral print, and of course, don't forget a cheerful Gin Blossom Little Luxe perfume ($32.00 each) in your handy accent clutch. Gin Blossom features yummy citrus zest and spring dew scents, with hints of mandarin blossom and verbena leaves. It's time to dance so be pretty!
Bare feet
The grass is deep, the ground is soft and your feet simply must be free! As you revel in the sensory pleasure tickling your toes, enhance your experience with Vanilla Chai lip balm ($9.00 each). Made with moisturizing favorites including extra virgin olive oil, beeswax, and organic jojoba oil, the vanilla and chai fragrances will keep your lips perfectly kissable all sumer.
Citrus Hand Creams
Sugar Grapefruit hand cream ($9.00 each) is the perfect complement to a warm summer evening spent laughing with your girlfriends. Combining pink grapefruit, orange citrus, warm musk, and lilly, this pore pleasing shea butter hand cream helps to keep your skin silky and moisturized through out the summer. The zesty fragrance, your silky smooth hands, and closeness of companions makes for lovely evenings that never end.
What fun loveandtoast by Margot Elena has become for summer 2010! The mix of juicy, vibrant hand creams and irresistible perfumes demonstrates Margot Elena's mastry of all things feminine, fun, and natural. Using paraben and phthalate free ingredients, loveandtoast by Margot Elena is exhilarating hand cream, luscious lip balm, and passionate perfume.
Use coupon code ltsummer20 at checkout for 20% off
###