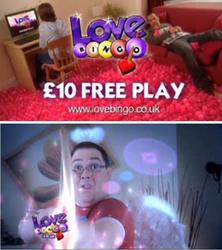 UK (PRWEB) October 9, 2008
Lovebingo.co.uk hits TV screens today with its first national television advertisement campaign.
Love Bingo which is known as the Heart of Online Bingo Games, aims to spread the love to UK online bingo players with its amusing cupid mascot.
Launched in May this year, Love Bingo has successfully delivered its unique brand of fun and innovative online bingo through its bespoke promotions, excellent side games and social appeal that takes full advantage of the modern Web 2.0 opportunities.
This new venture into national television advertising, sees the Lovebingo.co.uk cupid mascot take physical form in the shape of a portly man with a larger than life personality.
The advert sees the reinvented cupid become the unlikely hero when he answers the call for help from a frustrated female bingo player. With comedic performances and colourful scenes, this advert delivers a strong message to the online bingo market, that Love Bingo is here and it's capable of providing a fun, yet competitive online bingo experience to rival the established national bingo brands.
This advert is set to appeal to bingo players across the UK who are bored with their current bingo provider and are in need of lively change to a modern and dynamic online bingo site.
Managing director Stephen Hare said, "TV screens across the UK have seen lots of online bingo advertisements in the past six months and most seem to have a fixed style of a lead bingo actress playing at a bingo site and looking pleased with herself. We thought the UK online bingo market deserved something a bit more interesting, and the Lovebingo.co.uk ad delivers a unique message to bingo players, demonstrating a clear choice and lively alternative to the established market leaders."
With a mix of comedy, real-life footage and stylish animation, this new advert presents an innovative new brand of online bingo, with a unique identity and colourful appeal to the online bingo audience. This advert invites new players who love playing bingo and online games to sign up at Lovebingo.co.uk and get £10 free to play with a community of fellow bingo lovers.
In addition to the site games, Lovebingo.co.uk offers exclusive monthly promotions and competitions as well as daily promotions and a varied bingo schedule.
With one of the biggest progressive bingo jackpots in Europe, paying out an average of £30,000 every month and a variety of online bingo games including 1p bingo, buy-one-get-one-free bingo, half-price bingo, guaranteed prize pots, lively chat games,a comprehensive VIP and loyalty points reward schemes and the latest information on recent Love Bingo Winners Lovebingo.co.uk certainly has the capacity and resources to compete with the big names in the online bingo market.
Click Here to view the Love Bingo TV Advert
For more information about Love Bingo and the New Love Bingo TV Advert visit the website or the Love Bingo Blog.
###