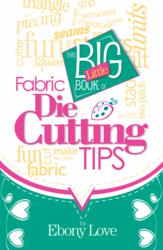 I believe everyone is entitled to get the same great results with their fabric no matter which die cutter they use, and I'm determined to show them how. - Ebony Love
Grayslake, IL (PRWEB) October 15, 2012
LoveBug Studios, the quilting and publishing home of award-winning quilter Ebony Love, is announcing the release of "The Big Little Book of Fabric Die Cutting Tips." Ms. Love has been sharing her knowledge and expertise about die cutting fabric for many years, and is delighted to collect what she has learned into an instructional book for quilters and other crafters using these systems.
"Die cutting has enabled me to do so much more with my quilting than I ever thought possible," says Love. "I want people to get the same enjoyment out of the process that I do, without having to endure so much of the early frustration that new users sometimes feel when they don't get the results they were expecting."
Several companies produce die-cutting systems for the quilting and crafting markets; two of the biggest names are Sizzix® and AccuQuilt®. Because of the variety of machines and dies, consumers are often overwhelmed by the choices and have trouble determining which system would be best for them. "A lot of quilters don't realize that some of these systems are interchangeable, and it isn't always in the manufacturer's best interest to tell them," Ms. Love explained. "My goal is to help people understand what's out there, learn to use it properly, and make the most of their equipment so they can do what they love: quilt!"
This 256-page book lives up to its name in a big way, and is packed with tips, extensive Q & A sections, and detailed explanations to help guide quilters through some of their most pressing issues like: what kind of die cutter is best for them; what dies to purchase, and how to make the most of them; how to use dies from one manufacturer in a different machine; techniques to reduce fabric waste during die cutting; and ways to store and maintain their equipment.
The book also introduces a new system called the Equivalent Die Notation System, or EDeN™, that helps quilters translate rotary-cutting pattern instructions for use with their die-cutting systems.
"I consider myself an educator as well as a consumer advocate," Ms. Love stated. "I'm really passionate about die cutting and I want to share that with the world. I believe everyone is entitled to get the same great results with their fabric no matter which die cutter they use, and I'm determined to show them how."
The book is a perfect instructional guide for anyone curious about die cutting fabric, and it makes a great resource guide for new owners of die-cutting equipment. Even experienced die-cutting quilters will appreciate the wealth of information contained in this book, and it's likely to show up on holiday wish lists this season.
The Big Little Book of Fabric Die Cutting Tips retails for $29.95 in the US, and is available for purchase through Amazon.com, independent quilt shops, online stores, or direct from the publisher at http://lovebugstudios.com. Wholesale or distributor inquiries can be made on the same site, or by calling 877-577-8458.
About LoveBug Studios
LoveBug Studios provides services to quilters through lectures, classes, videos, supplies, long arm quilting and publications geared toward spreading the love of quilt-making around the world. LoveBug Studios is also the home of Blocks to Die For, a magazine for fabric die-cutting enthusiasts, and Quiltspirations, a card game for quilters who need a little inspiration and whimsy in their lives.
Sizzix® and AccuQuilt® are trademarks of their respective owners. No affiliation or endorsement is implied by their use.