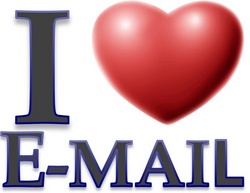 Email is not the problem, but rather bad email habits, the company culture, and the mismanagement of what flows in and out of the Inbox. Stop complaining about it and realize how much you love it. It eliminates phone tag; delivers the right message; reaches everyone you need at once; establishes a paper trail; and connects to your calendar, tasks, and contacts with the click of a button
Atlanta, GA (PRWEB) September 23, 2010
Join email overload expert and author of Conquer Email Overload with Better Habits, Etiquette, and Outlook 2007, Peggy Duncan, as she kicks off a national I LOVE EMAIL CAMPAIGN beginning October 1st. The campaign will consist of a series of Webinars (on Mondays), workshops (on Tuesdays), and media interviews. Duncan, who is a time management expert, will also conduct training throughout the U.S. at various conferences.
"Email is not the problem, but rather bad email habits, the company culture, and the mismanagement of what flows in and out of the Inbox. Stop complaining about it and realize how much you love it. It eliminates phone tag; delivers the right message; reaches everyone you need at once; establishes a paper trail; and connects to your calendar, tasks, and contacts with the click of a button," says Duncan.
She offers these solutions.
Reduce the load with better management. If email overload is a problem, reduce the load. Get into a meeting with your Inbox, clean it out, send people what they need, and move the messages to where they need to be. Your Inbox is not a to do list for unfinished work, tickler file that reminds you of work, calendar with meeting notices and reminders, database for addresses and phone numbers, or filing system for unfinished projects.
Improve your email culture with better habits. Developing better email habits will help improve email management. Ask people around you for a list of their email pet peeves...things you do in email that ticks them off. Pay attention to what they say and do better (for Duncan's list of 27 email pet peeves, visit http://www.PeggyDuncan.com).
Don't just install the software, learn how to use it. Training is the first thing to go when the economy dips when it should be the first thing to grow. You'll work more efficiently and make fewer mistakes. Without the proper training, you're taking hours to do something you can finish before you blink. The easier you make managing email, the better you'll be at it.
Peggy Duncan is a personal productivity expert and founder of The Digital Breakthroughs Institute, a technology and productivity training center in Atlanta, Georgia. She travels internationally as a speaker and consultant with a focus on helping busy people spend less time working but get more done. She's an award-winning technology blogger and the author of several books, including: Conquer Email Overload with Better Habits, Etiquette, and Outlook 2007; The Time Management Memory Jogger™; and Just Show Me Which Button to Click! in PowerPoint 2007. Her booklets include: Get Organized at Work and Make It Easy and Shameless Self-Promotion: Do-It-Yourself Search Engine Optimization (SEO). She has appeared on NPR, CNN, and Black Enterprise Business Report. Her expertise has been cited in Fortune Small Business, O-The Oprah Magazine, The New York Times, and The Washington Post. She was formally trained at IBM and was recognized by the chairman for streamlining processes that saved the company close to a million dollars a year.
For more information about the campaign and to schedule or register for training, visit http://www.DigitalBreakthroughs.com.
###