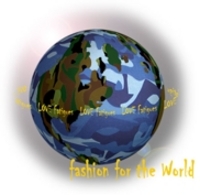 We are thrilled to be collaborating with Thompson's Productions and their concerts hosting Ziggy Marley in Hawaii to produce one of a kind concert shirts that will be available to fans at the shows, and on both of our web sites after the performances
Honolulu, Hawaii (PRWEB) August 6, 2009
Thompson's Productions will be bringing Grammy winning recording artist Ziggy Marley to Hawaii. Wearable art brand Love fatigues™ has partnered with Thompson's Productions and will be bringing its one of a kind shirts center stage as Ziggy performs back-to-back concerts in Hawaii on Saturday, August 15th at the Waikiki Shell in Honolulu, and Sunday, August 16th at the War Memorial Stadium in Maui.
Love fatigues seeks to revolutionize fashion with love as the underlying answer and as such is a fitting active wear partner for Thompson's Productions who is bringing Ziggy Marley to Hawaii. The joint venture also comes at a fitting time as Marley has just come out with his critically acclaimed new release "Family Time."
"We are thrilled to be collaborating with Thompson's Productions and their concerts hosting Ziggy Marley in Hawaii to produce one of a kind concert shirts that will be available to fans at the shows, and on both of our web sites after the performances," said Dan Johnson co-founder of Love fatigues. He added, "Our common messages of peace, love and appreciation for great music and design connect us on a meaningful level."
Kevin Thompson, CEO of Thompson's Productions said, "We are pleased to be offering our fans the kind of unique high-quality pieces that Love fatigues has created for us in a limited release to commemorate these shows. We seek to work with the best partners to create top of the line experiences for our audiences, and we look forward to an ongoing partnership with Love fatigues."
The concert shirts will feature elements of New York artist Seamus McGovern's "The Embrace" which depicts a man and woman holding one another within a camouflage design. This iconoclastic view of camo, which is often thought of as a pattern of war is one of the designs Love fatigues is using to pose the question, "When is the last time fashion challenged your world view?" Love fatigues clothing is available globally at http://www.lovefatigues.com.
###