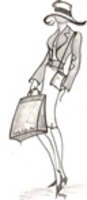 We exist to reveal the voice, tastes, inclinations, career challenges, and work/life balance of 'Women of a Certain Age' who is with herself - Lovely Life Magazine.com
(PRWEB) May 13, 2010
Ignored no more, single affluent women ages 35-55 now have Lovely Life Magazine.com as the place online to have a conversation with a publisher and writers that speak to the space and place they are at in life. The concept is simple: Focus on readers as opposed to customers, provide a clean and easy to read format, and provide a forum for the women to give feedback, critique the content and share their experiences.
The major fashion magazines stop at the age of 35. After the age of 35, Women's Magazines miss the mark and assume that everyone is married with children. You will find this online in the Mommy Blogs and Working Mother Ezines. If single women 35 and older are mentioned here, they assume the clock is ticking, they aren't having sex, they don't buy lingerie, they don't own homes, and they live with a lot of cats.
Whether directed at older married women or younger single women, they fail to realize that a single 45 year old woman in the top 3% financially in the U.S. doesn't have the time to sit and look at a lot of pretty pictures. She also has no desire to read stories about a 20 year old having her parents find out that she lost her virginity. A recipe for making pilgrim hats using Oreo Cookies is lost on them. Their romantic and socialize lives, careers, networking, and volunteer work give them a few fast minutes to grab the information they want, and move on to the next task, goal, or function. To grab their attention, you have to provide relevant content that respects the space and place they are at in life.
It doesn't stop at women's magazines and online publications. The 'Singilism' that Bella De Paulo, Ph.D a University of California social psychology professor wrote about in her book Singled Out: How Singles Are Stereotyped, Stigmatized, and Ignored, and Still Live Happily Ever After extends to the workplace, how single women are ignored on the political stage, and viewed by banks, the media, and society in general. Add that 'Singilism' to being a woman of a Certain Age and, and there is a need for an outlet and forum for this demographic to be seen, recognized, and heard.
A subscriber based Online Magazine with 30 days access for $5 and 90 days access for $12, the concept in and of itself is not advertiser friendly. Per Adrienne Ragland the Editor of Lovely Life Magazine.com, "We will promote products without holding the apparel designers, cosmetic manufacturers, and luxury goods manufacturer hostage to buy advertising. What advertising we will have after we build our Reader Base will be premium products, eco-conscious, companies that promote women at home and abroad, and that fit our demographics' lifestyle expectations. "
The May Preview Section includes articles on Seeja Skin Care, The Undateable Men of the Universe Need to Get A Clue, The Paycheck Fairness Act, and Fighting Back Against Focused Co-Workers.
Founded by Adrienne Ragland and launched May 1, 2010, the name Lovely Life Magazine.com was inspired by the book How To Be Lovely - The Audrey Hepburn Way Of Life by Melissa Hellstern. Hepburn stands as the icon for the magazine for her grace, elegance strength, classic style, humanitarian work, and singlehood after two failed marriages.
###