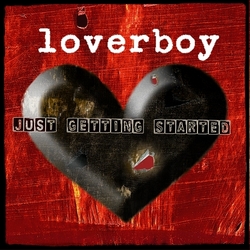 I almost couldn't sing the song that night
Vancouver (PRWEB) December 13, 2007
LOVERBOY'S new CD release JUST GETTING STARTED continues to receive five star music fan reviews and major industry recognition. A special CD digital press kit featuring Mike Reno with classic LOVERBOY clips and new CD information was created for the Fans. RockSTAR Music Corp., LOVERBOY'S label, completed an exclusive relationship with all 3,400 U.S. Wal-Mart stores. Wal-Mart is selling the hard copy CD at a retail price of $8.82 http://301url.com/WalMartLoverboyCD . The CD is available for digital download at Walmart.com at a retail price of $7.88 and at other online retailers. Both versions of the CD come with the bonus "Alive".
The FANS say it all:

This is the best Loverboy album they ever made. Who would have thought they had it in them? Mike Reno said they wanted all thriller and no filler. Mission accomplished.
Amazing! This CD will meet your highest expectations. The guys sound great. They have fresh new lyrics and they sooooo rock! You'll love the music. It is a must have.. It is so great! Everyone will love this! You won't be able to stop listening to it!
Ten Singles. When I saw the EPK online, Mike Reno promised that they had made a record with no filler. I'm happy to report that he wasn't wrong. Every song on the CD has the potential to be a huge radio single, and it's been a long time since I've listened to a record from top to bottom without skipping one song. The record takes you on an incredible journey that represents the passion and dedication of one of the best bands in the world. Mike Reno sounds like he's in his twenties and the band sounds like a bunch of hungry teens in their first recording session. I would highly recommend this CD, and if I could give them more.
WOW. I just got my copy of Loverboy "Just Getting Started" and I have to tell you, this brand new studio release ABSOLUTELY ROCKS! I have been a fan of the band from day 1 since I first heard the opening riffs of ''The Kid Is Hot Tonite'' and this release is, as one of the new tracks states..."As Good As It Gets". From the opening title track to the new release ''The One That Got Away,'' Mike Reno, Paul Dean and the boys will blow you away. The guitar riffs are hard and driving and Reno's voice still has it...and plenty of it. Make no mistake, these guys can still rock, and rock hard as evidenced on "Lost With You". This new release should get Loverboy back on the radio where they belong. 10 new tunes will stick in your head and leave you wanting more...a definite MUST HAVE. Pop this in, turn it up, and enjoy one of the ride! WOW.
I have to say this is one of the best album's this year; it's so refreshing to hear songs with a big hook again there are 3 outstanding power ballads on this CD, Fade To Black, I Would Die For You and the 1st single The One That Got Away. The rest of the CD is filled with solid rock tunes. Mike Reno's voice sounds as good as ever. I highly recommend it.
Great Loverboy Music. This is a great CD with 10 great songs. My favorites are Just Getting Started, Stranded, The One That Got Away, Just One of those Days, and Real Thing. I have been listening to it non stop since I got it and it gets better everytime.
Simply AMAZING! Let Loverboy take you for a ride! "Lost With You", "Stranded" and "One Of Them Days" are my favs. FABULOUS!
This CD ROCKS!, Ten fabulous new tunes. Every song has heart and soul and the fans will be singing along in no time. This is one CD that will be played over and over again. A definite MUST HAVE!
BILLBOARD Magazine (http://301url.com/AllMusicGuide-Billboard) recently featured the All Music Guide review for the Just Getting Started CD (http://wm09.allmusic.com/cg/amg.dll?p=amg&sql=10:axfwxzehld6e). AMG was founded in 1991 to help consumers navigate the increasingly complex world of recorded music and discover the very best recordings. AMG clients include Microsoft, AOL, Yahoo!, Amazon and Ticketmaster.
From 1980 through 1987, the band released four multi-platinum best sellers as well as many gold albums. Their hit singles are now rock classics and include ''Turn Me Loose,'' ''The Kid Is Hot Tonite,'' ''Working For the Weekend,'' ''Hot Girls in Love,'' and the power ballads ''When It's Over'' and ''This Could Be The Night,'' as well as the "Top Gun" soundtrack smash ''Heaven In Your Eyes,'' plus many more that are still concert favorites today for LOVERBOY fans around the globe. LOVERBOY fans and industry professionals are constantly blown away at the 100 performance dates the band continues to headline in the US annually.
We have had great reviews in the past ... but the five star reviews we are receiving at this stage of our career are incredible. "I am traveling across North America proudly promoting this CD. In the last 45 days I have completed over 135 interviews," says Mike Reno. The ongoing writers' strike understandably closed down the major TV talk shows which the band was going to perform on to millions of TV watchers. We support the Writers and wish them success. As a result, our Record Company, RockSTAR Music and the band increased our interview schedule and have started an internet "spread the word" campaign to create public awareness for our new CD. Our fan club's leaders have been great spreading the LOVERBOY message. We invite you to: http://www.rockstarmusiccorp.com/loverboy and http://www.myspace.com/loverboyrockstar for updated info. You can also listen to clips of each new song.
The album's title came from its lead track and the clear perspective that LOVERBOY is forging on ahead. "It does almost feels like we're just getting started again, after all we've been through together and in our personal lives as well," Mike says. The group is performing the new material in concert, with magical results. "Fans are singing along with the songs and never heard them before," Mike says. "That's what we did in the old days, too, try out new songs and if people got excited they'd be on the album."
One particular moving experience came while performing ''The One That Got Away,'' a truly personal work that came out of Mike Reno's divorce. "I almost couldn't sing the song that night," Mike recalls. "There was a fan crying in audience and I was thinking she's never heard it before and she gets it. That almost made me cry. I got a chill and Paul Dean and I just looked at each other and knew this was right."
"My life with Loverboy is about playing live, it's all about playing live," Paul Dean says. "How I look at it in the end, the songs will develop and change onstage, and already have. Even 'Lovin' Every Minute' and 'Take Me To The Top,' after 27 years, are still evolving live."
A band of brothers who have always been in it for the long haul, LOVERBOY is reenergized more than ever with the release of JUST GETTING STARTED, looking forward to playing even more of the album in concert, reclaiming their place as one of rock's greatest groups.
"We've always had the chemistry plus the history behind us as well. We know what we can do and want to do," Paul says. "My guitar sound and playing are a lot heavier now and Mike's tone and range -- it's just amazing. People are going to be surprised. This is Loverboy today."
"We would not have put an album out if we thought it was getting in the way of great hits we've done," Mike Reno says of JUST GETTING STARTED. "These new songs are respectful of our past and inspirational for our future. We look forward to playing our new tunes and the Loverboy Classics for our fans on our 2008 U.S. Tour."
Contact Info:
Michael Hektoen
RockSTAR Music Corp.
http://www.rockstarmusiccorp.com
mhektoen@rockstarmusiccorp.com
604-609-7393
###