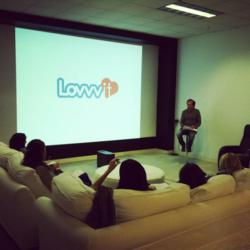 Our passionate users are the most valuable asset of this company.
Beverly Hills, CA (PRWEB) May 03, 2012
Finally, a tech company that understands the small business owner's wants and needs. LovvvIt founder, Max Gottlieb, knows that the true path to success for the small business owner is user recommendation. Add video to that concept and you have something. Add the ability for businesses to attach a deal to these videos and you have what Max has created, Lovvvit.com. Lovvvit.com and its iPhone app are in BETA right now, heading towards a summer launch.
"Tell the World What You Love" contest allows new users to enter their favorite business on Lovvvit.com and win a chance to receive a $250 gift certificate. The sweepstakes is simple and will allow Lovvvit to begin engaging with users to learn about what they love, encouraging them to create videos about their experiences. These videos will also be used to educate businesses about the marketing power of Lovvvit. Lovvvit combines the best elements of Yelp, YouTube, & Groupon to offer shoppers a genuine user recommended video experience prior to purchase. That means no more purchases based on misleading text reviews or static deal sites.
This is a once in a lifetime opportunity that is going to change the way customers and businesses communicate and reward each other. Lovvvit goes beyond the "check-in" and "like" button, allowing people a direct connection to their favorite merchant. It's a platform that allows customers and businesses to communicate and reward each other in a unique way. That is what small business owners are looking for these days. Direct connection to their favorite customers. It's not about daily deals anymore. It's about attracting new customers and creating a connection with them that not only keeps them coming back again and again, but making them an ambassador for their business. Lovvvit is the only company that allows businesses to receive and manage customer generated videos to market their company across the web. Businesses can use these videos to attract new customers and can launch deals instantly wherever and whenever they want, rotating videos and deals using the Lovvvit platform, essentially running their own media campaign.
Founder Gottlieb explains, "First, upload a video on the website or app. It can be up to 2 minutes in length. An email alert is sent to the merchant - they receive the video. They have 2 choices - they can reject it if they don't like it. But if they like it, they can create a deal for the whole world to see. Everybody gets to see it on Lovvvit and through frequent email alerts. It will be syndicated to blogs across the web as well. Plus it's a piece of content that lives on forever. We're delivering user generated content at no upfront cost. Then people can shop and get a true video experience recommended by the users. It's a win-win for everybody. We're living in a video age - people have the natural instinct to share the things they love with the world."
Hurry now and enter the contest and have a chance to win $250 and be one of the first to use the Lovvvit platform! Max is encouraging users to play, test, upload videos, and send feedback during the beta process. "Our passionate users are the most valuable asset of this company. We want to hear and are ready to listen to everything they have to say about Lovvvit in order to deliver an amazing experience," says Gottlieb.
Like us on facebook & follow us on twitter.
Check out our previous release here.