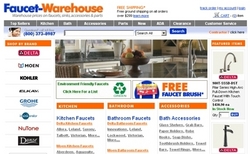 When a customer purchases from Faucet-Warehouse.com, we ship the order straight from our extensive 'on the shelf' stock
Albany, NY (PRWEB) March 3, 2009
Conscientious homeowners don't have to blow their home improvement budgets repairing kitchen faucets these days. Online retailer Faucet-Warehouse has expanded its lineup of unique sink faucets to include new eco friendly brands like Delta Leland faucets and Grohe kitchen faucets that are also priced to move.
The newest lines of aerated and low flow faucets sold at Faucet-Warehouse.com conserve water with typical use, without the need to take extraordinary measures to curtail use. The company is taking its responsibility to the environment a step further in its own business practices, reusing boxes and packaging materials, utilizing recycled paper and going paperless whenever possible, Faucet-Warehouse manager Mike Sauter said.
According to Sauter, Faucet-Warehouse is known not only for the online store's expansive line of brand name products like Delta Leland faucets and other environmentally friendly faucets, but is also quickly building a reputation for attractive pricing and service.
"When a customer purchases from Faucet-Warehouse.com, we ship the order straight from our extensive 'on the shelf' stock," manager Mike Sauter said. "With more than 15,000 items in stock we can fill orders quickly and to the customer's satisfaction."
Faucet-Warehouse's online shoppers can search and review kitchen faucets according to application, brands (Delta, Moen and Grohe faucets, for example) and price, or type their own search criteria into the search bar. The staff assisting customers at the Internet store can help buyers purchase from the inventory featured online, or locate items such as Delta, Elkay, ISE, Nutone and Moen faucets that are currently listed on the Web site.
"When you contact Faucet-Warehouse.com, our goal is to provide the best and most complete service possible," said Sauter. "Our representatives are some of the most knowledgeable people in the industry."
For more information about products such as eco friendly Delta Leland faucets, visit Faucet-Warehouse.
About Faucet-Warehouse:
The Faucet-Warehouse.com offers a broad selection of name brand faucets, sinks and accessories such as Delta and Grohe faucets, all through its online store. For more than 25 years the company has been shipping these products from its Albany, NY, warehouse, which is serviced twice daily by UPS.
###