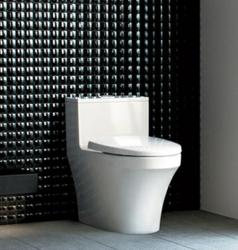 INAX has four unique types of low flow toilets, each of them offering a different type of flush – all of them powerful, and none of them using more than 1.6 gallons per flush.
(PRWEB) August 23, 2012
HomeThangs.com – the Home Improvement Super Store has made their goal to deliver the right product to the consumer, with that in mind, shopping and home design tips, as well as special product selections are being introduced.
When new water conservation laws went into effect in the US in the early 90s, manufacturers had to rush to comply, dramatically slashing the amount of water toilets used per flush, often by more than half. Now, at the time, and for a good while after, most people weren't exactly eager to jump on the low-flow bandwagon for the simple reason that these new low flow toilets just didn't work. The technology hadn't had time to catch up with the new regulations, and people often ended up using more water, having to flush multiple times to get the job done. Unfortunately, that stigma has stuck, despite the fact that quality low flow toilets can now use far less than the mandated 1.6 gallons per flush and work even better than older models.
HomeThangs.com introduced a new line of low flow toilets by INAX, as well as a tip sheet to educate the consumers on how they work and explain the special features that make these toilets so innovative.
1. Double Vortex Flush
Traditional toilets transfer some of the stored water in the toilet tank into the bowl through a series of tiny holes inside the rim of the toilet bowl. This not only lessens the force of the water, but it can also cause staining as the holes dribble and rust over time. More importantly, the bulk of the "flush" actually comes up from an opening in the bottom of the toilet, with the goal of forcing waste down that way. Unfortunately, that doesn't work so well without enough water, so INAX has redesigned low flow toilets from the ground up. Double vortex flush toilets like Dover Dual Flush for instance, release 100% of the flush water all at once from two large openings in the top of the bowl. The rim and bowl are both shaped to create a vortex out of the water, cleaning the entire interior of the bowl as it cycles through and creating an increasing downward force that powerfully removes waste.
The Saint Clair Dual Flush toilet for example, features a single piece construction and simple, traditional white porcelain surface. But instead of a traditional trip lever, it has two buttons on top of the tank, offering two flush options. For this particular design, the "big flush" is 1.28 gallons per flush, and the "little flush" a mere .9 gallons, which means that not only is it more efficient at flushing, it's also much more water efficient than even extremely low flow toilets with only a single flush option.
2. Vortex Flush
INAX's vortex flush is similar in design to Double Vortex, but has only one instead of the double-vortex's two holes that release water, and a slightly differently shaped bowl to help facilitate the creation of a vortex to purge waste while washing clean the entire inside of the bowl. The biggest difference here is that the toilets in this series, like Rio Grande Dual Flush are two-piece toilets rather than the single-piece low flow toilets in the double vortex series. As well, while their "big flush" uses the same 1.28 gpf, the "little flush" uses a slightly lower .8 gallons, which can make a difference over time.
3. Silent Stream Flush
INAX's Eco-X low flow toilets aren't made solely to flush more efficiently – they're also designed to fit specific needs and situations. Silent Stream collection consists of only one toilet, the futuristic-looking Regio Toilet, available in either black or white, and is designed pretty much exclusively for master bath suites. At 1.6/1.1 gallons per flush, it isn't nearly as water saving as many of INAX's other models, but what it does do is flush almost completely silently. The bowl is designed much like the others, to facilitate a swirling, cleansing flush from the top down. But instead of using the vortex of water to force waste out of the toilet, the Silent Stream toilets use a specially designed air pressure regulator to silently pull waste down and out through the plumbing.
4. Jet Stream Flush
The jet stream flush toilets, like NC-AS2070-US Elegante Toilet, are INAX's highest-flow toilets, but are designed to dispose efficiently of large amounts of solid waste in a single flush. It isn't quiet and it isn't nearly as water efficient as some of the other toilets by INAX, but it complies with American federal regulations, and offers the most powerful flush in INAX's collection. Jet stream flush low flow toilets are even a better option than older, higher water consumption models because it's specifically designed to accommodate large amounts of waste.
5. Hyper Clean Finish
In addition to innovative bowl designs and unique types of water flow, there is one other thing that makes INAX low flow toilets work so much better than an average old fashioned toilet. The inside of the toilet is covered in a smooth, hard, anti-bacterial glazing they refer to as a Hyper Clean. This coating not only makes the toilets incredibly easy to clean and resistant to staining, but it also helps prevent waste from clinging to the sides of the toilet on the first flush.
HomeThangs.com is not only a home improvement superstore, it also provides expert design tips and a comprehensive shopping guide, taking the ideas from professional interior designers, and offering tips to the consumers on how to pick the products to best suit their needs.