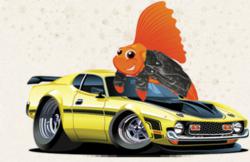 Even if you don't believe in karma, leaving a decent tip is just the right thing to do.
Detroit, MI (PRWEB) May 24, 2012
RoadFish.com men's lifestyle and finance magazine was shocked to read an article highlighting a waitress's financial struggle with her less-than-minimum-wage earnings at the restaurant she works at in Detroit. The article pointed out that most servers are still being paid the same sub-minimum wage for tipped workers which has not increased since 1991, which in Michigan is $2.65 an hour but in many other states is still as little as $2.13 per hour.
Sharon Johnson of Forbes reported that Moldavian-born Zhanneta Dunder, a 41-year-old single mother, works full-time at a Detroit family-style restaurant and makes around $300 per week. That's $15,600 in annual income, which would be in itself a challenge for one person to live on, let alone save up for things like retirement, pay off debt to increase one's credit score, and put aside money into a savings account. Dunder states that she gives good attention to customers, and is proud of her service. But the time of day, mood of customers, and season of the year all play a role in causing tips to fluctuate and be incredibly unreliable from day to day, and week to week. Dunder is quoted as saying, "It is a struggle to pay the rent, let alone gasoline, car insurance and my daughter's school supplies," said the 41-year-old waitress. "But I'm grateful for the job because I like the people I work with and the customers are nice."
Johnson's article points out that there is a federal provision called "the tip credit," which basically calls for lower wages for workers who receive tips at their place of business. Johnson reports that the sub-minimum wage for tipped workers is $2.15 an hour, which comes out to $4,333 yearly for full-time employees. The majority of states have instituted wages that are slightly higher than that—Michigan's hourly wage for tipped workers is $2.65, for example—but about half of the U.S. states still pay tipped workers less than $3 per hour. As a comparison, the federal minimum wage is $7.25 per hour, or $15,000 a year for a full-time worker clocking 40 hours in a week. That's more than a $10,000 difference.
RoadFish.com urged its readers to be generous, not stingy, when it comes to tipping. RoadFish.com's Senior staff writer is quoted as saying, "Even if you don't believe in karma, leaving a decent tip is just the right thing to do. You are paying somebody for a service they have provided you with. Now, in the rare occasion that the service is lousy, I have no problem mentioning something to a manager. But reading this story reminds me how much servers rely on tips, and stiffing your waiter or waitress might not feel like a big deal to you, but it is to them. Plus, leaving an inadequate tip is like telling a server that they didn't do a good job. If they did do a good job, and you still leave a lousy tip, that's confusing. They're wondering what they did wrong? Or wondering if you're just cheap?"
According to the United States Department of Labor, Alaska, California, Minnesota, Montana, Nevada, Oregon, and Washington are states whose law does not allow tip credit. Therefore, their hourly wages for servers are the same as for every other, non-tipped worker in the state, which in California for example is $8, and Alaska is $7.75. Among the states where the tip credit wages are the lowest is Indiana, Kansas, Kentucky, Nebraska, New Jersey, New York, North Carolina, South Dakota, Texas, Utah, Virginia, and Wyoming. All of these states have a set minimum cash wage of $2.13 an hour. Hawaii has the highest tip credit wage, coming in at $7.00 per hour. Connecticut and West Virginia are runners-up, with $5.69 per hour and $5.80 per hour, respectively. All of the other states have wages between $2.65 and $4.95 per hour.
RoadFish.com's Senior staff writer is quoted as saying, "I remember when I used to work in the restaurant industry as a server, many times my paychecks would be a negative number, because the amount of taxes on the tips I was making exceeded my wages. If guests tipped in cash, I wouldn't get any money added to my check, causing me to owe the restaurant at the end of the week. I didn't mind, because it meant I was making good tips, but I worked in a fancy, upscale Italian restaurant. I got the job through a friend. I had many server friends who did not fare so well in the tips department, either because their restaurant was slow, or they didn't serve alcohol or what have you, and it was just hell on their finances. It was hard work and long hours, and if it was a slow night and you only saw a couple of tables, you could make less than $30 bucks in a 7 hour shift—and that's before taxes."
Johnson's article points out that servers usually do not enjoy benefits such as health insurance, paid vacation days, and sick days. A survey by Restaurant Opportunities Centers (ROH-United), a national nonprofit restaurant worker organization out of New York, stated that of the 4,300 restaurant employees in America surveyed, 90% did not have paid sick days, and another 90% do not receive health insurance through their restaurant employers. This lack of benefits and paid time off, in addition to the low minimum wage and fluctuating tips, can add to the financial stress of a serving position.
About RoadFish.com
RoadFish.com is an online men's lifestyle and finance magazine targeted toward men in their 30's and 40's that have already attained a moderate level of success in life, and are striving toward more. It goes over current events of interest to this group, such things as exciting adventures, consumer interests, and hot chicks, as well as ways to make more and save more money. It is a publication owned by Purpose Inc.