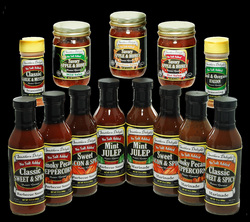 We recognize that as prices continue to spiral upward, more and more American families are being forced to move to lesser expensive food alternatives. As salt is the least expensive ingredient that food manufacturers typically have available to enhance flavor, many consumers are migrating to salt-laden foods to ease the family budget
Bowling Green, KY (PRWEB) June 19, 2008
Southern Delight Gourmet Foods, LLC announced today bold plans to reduce retail prices of their gourmet no salt added, low sodium products by 28% to 40%. In the wake of a flood of price increases at supermarkets across America, Southern Delight's announcement is aimed at helping families to prepare affordable low sodium and heart healthy meals at home. Southern Delight makes low sodium, no salt added barbecue sauces, marinades, salsas and seasoning blends.
"We recognize that as prices continue to spiral upward, more and more American families are being forced to move to lesser expensive food alternatives. As salt is the least expensive ingredient that food manufacturers typically have available to enhance flavor, many consumers are migrating to salt-laden foods to ease the family budget," according to Bart Anderson, company founder and regional low-sodium and heart-healthy TV cooking personality.
"High blood pressure is a modern day epidemic, and we know that by eliminating salt as an ingredient at the processing stage, we can help families dramatically reduce their sodium intake. For example, many consumers have told us that they eat an entire jar of salsa at one sitting - by themselves. Our new no salt added salsa contains only 60 mg. of sodium for an entire jar, compared to 2000 mg. to well over 3000 mg. for many of the national brands," he added.
Like many other gourmet food products, Southern Delight Gourmet products contain a higher concentration of costly spices and are made in small batches. Consequently they sell at the higher end of the price scale. The announced price action helps alleviate the higher price differential for American families that are looking to cook and eat more heart healthy meals.
"It's our goal to not only provide Americans with low sodium, no salt added, heart healthy condiments, but to also give them easy heart healthy recipes to cook for their family," added Anderson. Another hit recipe from the Southern Delight kitchen is "Annie Murl's Crock Pot Pizza", a recipe originally developed by Anderson's mother-in-law, Annie Meriel "Murl" Noffsinger, more than thirty years ago, and modified by Anderson to be lower sodium. Anderson has prepared the very popular recipe on a number of TV stations. Click here to watch the segment at Fox-17 in Nashville, TN.
"America is facing the greatest health challenge in her history with 65 million Americans suffering from hypertension, and nearly 650,000 people dying annually due to heart disease and stroke. More Americans die each year from heart-related issues than any other reason, and consuming too much sodium is part of the problem," according to Anderson.
Southern Delight just last month announced their long-awaited no salt added, Kosher and low sodium Savory Apply & Honey Salsa. You may view the news release by clicking here.
About Southern Delight Gourmet Foods:
Southern Delight Gourmet Foods, LLC, is a maker of no salt added, low sodium sauces, marinades, salsas and seasoning blends. Their products are available at regional supermarkets, gourmet and gift stores, or by ordering from their on-line store. Bart Anderson, founder, is seen regionally on TV stations in Indiana, Ohio, Kentucky and Tennessee, preparing easy, low-sodium and hearty-healthy dishes, and his TV schedule is listed at the company's website. News media product samples and high resolution product photographs are available upon request.
Southern Delight, Savory Apple & Honey, Classic Sweet & Spicy, Smoky Pecan Peppercorn, and Sweet Bacon & Spice are trademarks of Southern Delight Gourmet Foods, LLC.
###