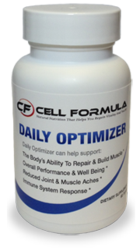 Health and wellness company, True Healthy Products releases new all natural Cell Formula product to battle symptoms of low testosterone in men.
(PRWEB) April 20, 2012
True Healthy Products, health and wellness company recently released a new product to battle low testosterone in men called Cell Formula Daily Optimizer. The Daily Optimizer is an all natural complex supplement that promotes the production of Testosterone.
The company has a free report on the components of the Cell Formula line and how it works, visit their site at http://www.cellformula.com.
The Mayo Clinic online resource lists the following as some of the possible symptoms relating to hypogonadism from their description for the term "Male hypogonadism", which oftentimes is synonymous with low testosterone in men under the symptoms:

Erectile dysfunction
Decrease in muscle mass
Fatigue
Decreased sex drive
Difficulty concentrating
According to True Healthy Products' formulator, the Cell Formula Daily Optimizer can help fight these symptoms of low testosterone in men with proper supplementation. The Daily Optimizer in particular has ingredients that can support the body's ability to repair & build muscle mass, relieve joint and muscle aches, increase energy & overall performance, increase testosterone in men & estrogen in women, and increase immune system response and general health.
"Daily Optimizer and Pure Energy helps me regulate hormones, helps me sleep and helps me with my recovery, I have increased energy, mental focus there are no jitters and no crash. They are all natural, no additives or sugars; it is the only safe alternative to energy," says Rod Johnston, Fire Department Training Chief.
The key ingredient for the Daily Optimizer to combat the signs of hypogonadism (resulting in low testosterone in men) is Dehydroepiandrosterone (DHEA) which is a natural occurring hormone which can convert into other natural hormones.
In addition to the new Cell Formula - Daily Optimizer to help fight symptoms of low testosterone in men, True Healthy Products also released several new products to bring about better health and nutritional balance for those that want to make healthy lifestyle changes. To learn more about the Daily Optimizer and the Cell Formula supplement line, visit the company's website at: http://www.cellformula.com
True Healthy Products, LLC
2460 North Courtenay Parkway, #210
Merritt Island, FL 32953
USA
888-400-2920