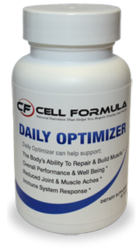 Health and wellness company, True Healthy Products, now offers a Free Report on symptoms of low testosterone and other common imbalances, and what to do about it.
(PRWEB) March 17, 2012
Health and wellness company, True Healthy Products out of Merritt Island, FL recently released their new "Cell Formula" line for active people and aging people that want to raise their testosterone levels, normalize hormones, get nutritionally balanced, or increase energy levels.
A Free Report is now available that discusses symptoms of low testosterone and other imbalances here: http://www.cellformula.com/report/.
The company released the new Cell Formula nutritional product line in 2012 that include several products that are all natural and promote good health and vitality.
According to the report, the Cell Formula products will help people achieve:

Improved rest and recovery with the Daily Optimizer
Muscle growth and retention using the Lean Protein
Increased energy and endurance using the Pure Energy
General health and well being by having the Anabolic Base
Reduced joint and muscle pain with the Daily Optimizer
The Cell Formula free report reveals details about the sometimes taboo topic of low or decreasing testosterone in men, especially over the age of 30, and is commented on by Professional Football and 3x Super Bowl Winner, Roger Craig, "As an Athlete you want muscle recovery because you want to be able to work as hard the next day. I have no soreness in my muscles when I take this product. I have been retired for 16 years and now I run marathons, I train and run around 45 miles a week. This product dramatically helps my recovery from one workout to another."
An informative interview about the benefits of the Cell Formula line with Dr. S. Gregory, PHD, ND and Jan Hrkach, CEO of True Healthy Products can be viewed here: http://www.truehealthyproducts.com/products/dietary/cell-formula/cell-formula-daily-optimizer
True Healthy Products released the new Cell Formula line for 2012 along with several other all natural products including a skin care line, and several home remedies for preventative health. The free report on the Cell Formula line is typical for this company, who frequently releases free information to educate their clients and first comers to their website to raise awareness about the importance of leading a healthy lifestyle, and how to achieve a healthy lifestyle.
True Healthy Products
2460 N. Courtenay Parkway, unit #210
Merritt Island, FL 32953
888-400-2920