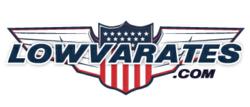 I decided to join LowVARates because I know they are company which has had a lot of success helping veterans.
Lehi, UT (PRWEB) March 06, 2012
LowVARates.com hired a new operations manager to help ensure proper care and support is provided to every customer looking to purchase or refinance a VA home loan.
The new operations manager, KC Smalley, has worked in the mortgage industry since 2000. During his time working in the mortgage industry, Smalley has processed, originated, trained, managed, underwritten, drawn docs and funded home loans.
With interest rates at an all-time low and thousands of veterans looking to refinance their existing VA home loans, LowVARates.com has seen a huge jump in sales and employees. The growth is leading to new positions and opportunities that may have not been available or necessary in the past.
Owner of LowVARates.com, Eric Kandell, hired Smalley to help with the continued growth and expansion of the company and oversee and assist the loan officers in their tasks.
"KC brings added experience to our staff and will greatly assist our loan officers in the day to day grind," Kandell said. "It's nice to have another member of our team that has over 12 years experience in the home loan business."
Smalley attended College at CSI in Idaho and enjoys running, computers, cycling and camping. He has been married for eight years and has a six-year-old girl.
This is the LowVARates.com first operations manager and it hopes the position will be beneficial to the loan officers, processers, military homeowners and top management.
"Our company is growing so fast that hiring an Operations Manager basically became a necessity to keep up with the growth," Kandell said. "We are really excited about our growth and look forward to better serving military homeowners."
At his previous employer, Smalley was a top producer as a loan originator. He is excited for the opportunity to work for LowVARates and has a good understanding of the objectives and goals of the company.
"I decided to join LowVARates because I know they are a good company and have had a lot of success helping veterans," Smalley said. "It's nice for me to align myself with a company that places and emphasis on honesty and has integrity because I have always conducted business with that same mindset."
In 2012, LowVARates.com has already helped over 350 families refinance their existing VA home loan. With the new additions to the team, the company is on pace to help nearly 2,500 military families save money on their VA home loan.
ABOUT LOWVARATES.COM
For the past 20 years LowVARates.com has been dedicated to serving veteran homeowners. We specialize in providing VA loans to qualified veterans for mortgage purchases and refinances. These loans provide lower interest rates and monthly payments than other traditional loans.
VA loans are currently the only program left that allows no-money-down loans providing a secure mortgage option guaranteed by the Federal Government. Our professional staff and loan officers will assist you to lock in low interest rates and take advantage of the unique opportunity provided through VA loans.
# # #