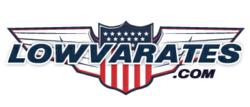 The purpose of our Christmas contest is reach out to a few families that are struggling financially and help them provide a wonderful Christmas for their families.
Lehi, Utah (PRWEB) December 20, 2012
Three military families received $250 of Christmas gifts this holiday season courtesy of LowVARates.com and will provide their loved ones with a merry Christmas.
The Ortega, Adams and Young families each received $250 of gift cards to stores of their choice to help provide Christmas gifts for their family members and loved ones.
The LowVARates Christmas contest was mainly published and marketed on the company's social media outlets. Various families from across the nation submitted essays explaining their current situation and the three recipients were selected on Monday Dec. 17th.
The three selected families submitted an essay to LowVARates discussing their current circumstance and struggles. The families gave a short explanation of why they needed the assistance this holiday season.
Owner of LowVARates, Eric Kandell, wanted to donate to a few families that he knew really needed the assistance and could benefit from the extra help during Christmas.
"The purpose of our Christmas contest is reach out to a few families that are struggling financially and help them provide a wonderful Christmas for their families," Kandell said. "The Adams, Ortega and Young families were very good candidates and we are thrilled to be able to help them this Christmas."
The Ortega, Adams and Young families have all stumbled upon hardships and the $250 will help each family's children and loved ones receive the Christmas they deserve. Each family was extremely grateful for the help and they already have plans for the $250.
"We were thinking we may not be able to provide Christmas gifts for our children this year, but the money is going to help us get some new clothes that our children really needed," R. Young said. "I know these gifts are going to put smiles on the faces of our children and as long as they are happy that is all I need."
Since LowVARates.com is an organization that assists military families and veterans, all three of the winning families have strong ties to the U.S. military.
Both the father and mother of the Adams family served for a combined nine years in the Army National Guard. The father of the Young family spent 15 years in the U.S. military, but recently left the service and has been unable to find employment. The father of the Ortega family is a veteran and now prides himself on giving back through countless hours of community service.
"We love the fact that the three families selected have strong ties to the military and are extremely grateful for their service to this great nation," Kandell said. "We are so proud of the men and women of the U.S. Armed Forces that sacrifice for our freedoms."
This is the fourth year of the LowVARates.com has provided a Christmas contest and has received wonderful feedback on the contest. The company plans to continue to give back with various promotions, contests and charitable donations.
"With the growing success of our contests and charitable programs, we plan to expand our efforts and help more families nationwide," Kandell said. "I have always been a strong believer to give back to those in need and reach out a helping hand when you can."
To learn more about the LowVARates Christmas Contest and how the winners were selected, click here: http://www.lowvarates.com/christmas-giveaway
ABOUT LOWVARATES.COM
For the past 20 years LowVARates.com has been dedicated to serving veteran homeowners. We specialize in providing VA loans to qualified veterans for mortgage purchases and refinances. These loans provide lower interest rates and monthly payments than other traditional or conventional loans.
VA loans are currently the only program left that allows no-money-down loans providing a secure mortgage option guaranteed by the Federal Government. Our professional staff and loan officers will assist you to lock in low interest rates and take advantage of the unique opportunity provided through VA loans.