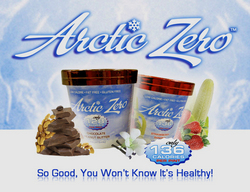 Temecula, CA (Vocus) February 26, 2010
Who doesn't love dessert? Here in America, the word dessert can be a double-edged sword for those who want it, but know they cannot eat it. Diabetics have to be watchful of the number of grams of sugar and carbohydrates they consume on a regular basis. Nearly 24 million people in America have diabetes, and 1 in 6 overweight adolescents are pre-diabetic. According to the American Diabetes Association, these numbers are predicted to almost double in the next 25 years. Until recently, diabetics have been limited to what they could consume in the way of desserts. A newly introduced product, Arctic Zero, provides that missing healthy alternative. Each pint of the healthy frozen dessert Arctic Zero has less than 11 carbohydrates per serving, of which only 2.75 carbohydrates are absorbed by the body. Likewise, of the 9 grams of sugar per serving, only 2.25 grams of sugar are absorbed.
Arctic Zero is also made with whey protein concentrate and uses an all natural, sweetener Whey Low® (no relation to whey protein), which is a patented blend of all natural fructose, sucrose, and lactose monohydrate, but contains no sugar alcohols. It offers the same sweetness, taste, and food properties of sugar, with a 70-80% lower glycemic index with fewer impact carbohydrates and calories, of which only 25% are absorbed. To put things into perspective, an entire pint of the healthy frozen dessert Arctic Zero has between 128-136 calories per pint, depending on the flavor, and only about 10-11 carbohydrates per pint are absorbed by the body. Compare that to the average pint of ice cream that has well over 100 grams of carbohydrates, and 100 grams of sugar which are fully absorbed by the body.
Made with whey protein concentrate instead of butter fat, Arctic Zero contains up to 20 grams of protein per pint and is still easy on those that are lactose. But one has to ask, how does Arctic Zero taste? Elizabeth Edelman, a Diabetes Daily contributor of the Simply Cooking section for Diabetesdaily.com said, "…it didn't taste like it only had 128 calories in the whole pint. Per serving, there were around 32 calories, 11g of carbs, and zero grams of fat. It's also gluten free, easy to eat for those who are lactose intolerant, and all natural. I still can't believe that something this healthy can taste this good. If you're on a low-carb diet, this is a great way to get your sweet fix in. Take that, diabetes!" Fortunately those with diabetes or a sensitivity to sugar can now have their fun and eat it too with a healthy frozen dessert like Arctic Zero.
Arctic Zero, Inc. is a Temecula, California based business that specializes in low calorie and nutritious frozen dessert products.
For additional information, please visit http://www.MyArcticZero.com for further contact and location information.
# # #