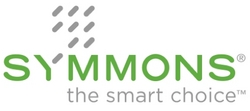 Do's and Don'ts of Super Low-Flow Showerheads.
Braintree, MA (Vocus) October 2, 2009
Homeowners in the market for a low flow showerhead evaluate the product based on the spray, water pressure and design. Symmons Industries, a pioneer in safe showering, encourages consumers to assess the safety aspects of proper installation of low flow showerheads.
"It is our responsibility as a manufacturer to help customers and builders understand the safety requirements related to low flow products" said Greg Boudreau, Symmons Customer Service Manager.
Low flow showerheads operate at less than 2.5 gallons per minute (gpm) and in some cases, the lower flow rates can change the effectiveness of the shower valve, which puts the bather at risk of "thermal shock" or scalding. For this reason, it is important that the shower valve is capable of accommodating a low flow showerhead and can effectively operate at lower flow rates to eliminate risk of bathing injuries.
Since most shower valves do not identify their low flow showerhead compatibility, consumers are left wondering if their showerhead will provide a safe shower. To ensure proper temperature control at lower flow rates, Shawn Martin, Technical Director, Plumbing Manufacturers Institute, recommends buying a showerhead that is the same brand and paired with the correct shower valve.
With Symmons Temptrol® and Safetymix® showering systems you can expect safe water temperatures at rates as low as 1.5 gpm.
"Symmons low flow lavatory faucets and showerheads allow homeowners to save water and money without the risk of a bathing injury." said Boudreau.
Current testing for shower valves has been established for flow rates of 2.5 gpm but not low flow rates. Symmons is currently working with Plumbing Manufacturers Institute, the trade association for plumbing product manufacturers, to develop requirements for acceptable low flow showerhead efficiency while keeping safety a priority.
At Symmons, green is more than just a brand color, we are committed to educating consumers about water conservation and safety in the shower and bath. With a full line of low flow lavatory faucets, showerheads, kitchen faucets and tempering valves, homeowners have many options for beautifully designed, functionally safe products to help them save water and energy.
Please visit http://www.symmons.com/Conserving-Water to view a full range of Symmons low flow products.
About Symmons Industries
Since 1939, Symmons Industries has been a premier manufacturer of commercial and residential plumbing products. Symmons offers a variety of durable, reliable and beautifully designed plumbing fittings for residential and commercial applications. Symmons pressure-balancing, anti-scald shower valve, in combination with its expansive premium products for kitchen and bath makes Symmons truly the smart choice in plumbing. As an industry leader, Symmons continues to innovate within the custom fittings category, creating distinctive design solutions for premium hospitality and condominium projects. Headquartered in Braintree, Massachusetts, Symmons is a privately-held company with regional sales offices and local representatives located throughout the United States and Canada. For more information, please visit http://www.symmons.com email info(at)symmons(dot)com, or call 1-800-SYMMONS.
Resources:
Martin, Shawn. "Do's and Don'ts of Super Low-Flow Showerheads." August 2008.
Building Design + Construction
http://www.bdcnetwork.com/article/CA6587226.html?q=showerhead
CONTACT:
Megan Thatford
Symmons Industries
781-664-1305
# # #