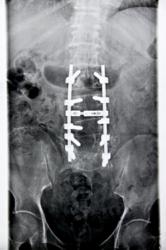 there are pro's and cons of minimally invasive spine fusion surgery
Houston, TX (PRWEB) June 11, 2013
Low back spine fusion surgery is increasing in the United States, and there is a tremendous migration of patients and spine surgeons toward performing these through minimally invasive approaches. While the spine surgery literature shows that there are strong advantages which minimally invasive spine procedures have to offer, there are also some disadvantages which surgeons and patients should be aware of.
According to Rajaee et al in Spine, "Between 1998 and 2008, the annual number of spinal fusion discharges increased 2.4-fold (137%) from 174,223 to 413,171." John Lucio et al, in Risk Management Healthcare Policy found in comparing minimally invasive and open lumbar fusion procedures, that minimally invasive fusion procedures saved an average of $2825 in hospital costs. The minimally invasive procedures also had lower intraoperative blood loss and shorter hospital stays, although surgical operating room times were similar for the two groups.
"An essential part of most lumbar fusion operations is the placement of pedicle screws, which allow adjacent spinal segments to be held rigidly in place while the two bones grow and fuse together" states Gary Kraus, M.D., at the Kraus Back and Neck Institute in Houston, TX. "It is important that the screw not pass through a bordering normal facet joint, which is a part of the lumbar spine which allows movement of the spine above the fused level." A recent paper in the Journal of Neurosurgery Spine, by Jones-Quaidoo (June, 2013) of the Norton Leatherman Spine Center, concludes that "the use of a percutaneous method to insert pedicle screws results in a statistically significantly higher incidence of facet joint violation," when compared to screws placed during an open surgical procedure. Another paper in the same journal, by Lau et al (April 2013) from the University of Michigan, found that the rates of facet violations seen with minimally invasive lumbar fusions was no different than those of open fusions. Another paper in the Journal of Neurosurgery Spine (October 2010) indicated that the "owl's eye technique of pedicle screw placement" provides good accuracy in pedicle screw placement.
Dr. Kraus feels "these findings are very important to spinal surgeons around the world, who want to do the best for their patients." "While many patients are attracted to minimally invasive spinal surgery because of the advantages which minimally invasive procedures have to offer, such as shorter hospital stays, decreased blood loss, smaller incisions and less muscle retraction, we also see, according to some papers published in our research journals, that the accuracy in the placement of hardware may be slightly compromised." "There are many ingredients which go into creating a successful outcome for patients. Whether the procedure is performed through a minimally invasive or open surgical approach, a good discussion between the spine surgeon and patient is very important to review the advantages and disadvantages of each."
Gary Kraus MD has extensive experience with both minimally invasive and open surgical procedures of the spine and brain. He is Director of Neuroscience and Gamma Knife at West Houston Medical Center, and past Chairman of Neurosurgery at Memorial Hermann Memorial City Hospital, Houston, TX. He is Assistant Clinical Professor, Department of Neurosurgery at the University of Texas Medical School at Houston. Dr. Kraus is Board Certified by the American Board of Neurological Surgery, and is a Fellow of the American Association of Neurological Surgeons. He has been listed in "Top Doctors in Houston," "Best Doctors in America," and featured among "Best Neurosurgeons in Texas" and "Neurosurgery Leaders in the United States" in Newsweek; listed in "Who's Who in America."
Publications of Dr. Kraus include the textbook Microsurgical Anatomy of the Brain: A Stereo Atlas (published by Williams and Wilkins) in addition to numerous chapters and peer reviewed papers in the neurosurgical literature, as well as neurosurgical patents pending.
Dr. Kraus is conducting webinars and an office education outreach program for those interested in learning more about minimally invasive and open spinal surgical procedures. For more information, please contact the Kraus Back and Neck Institute at 281-870-9292.