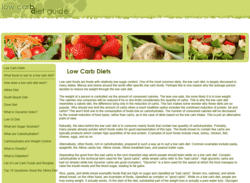 The hard, cold truth is that eating lots of sugar usually leads to many diseases, including diabetes, obesity, and heart disease to name a few
Toronto, ON (PRWEB) September 14, 2012
Art Branch, Inc. today announces the publication of LowCarbDietGuide.org (http://www.lowcarbdietguide.org), targeted at dieters who are interested in learning more about low carbohydrate diets and lifestyle.
Created by the web design and development team at Art Branch, Inc., the new website presents tons of information about the most popular low-carb diets. The goal of LowCarbDietGuide.org is to offer facts in a balanced way so that people can learn more about dietary plans such as the Zone, Atkins, and South Beach diets. This helps dieters to make informed choices and lose weight without compromising their health.
"Low carbohydrate diets have always been a hot and controversial topic, and there are many misconceptions and myths surrounding them. The hard, cold truth is that eating lots of sugar usually leads to many diseases, including diabetes, obesity, and heart disease to name a few," said Peter Todorov, President of Art Branch, Inc.
The new website revisits some popular misconceptions about low carb diets and highlights the health benefits of following a balanced and nutrient-rich diet. Dieters benefit from tips and advice on how to prepare healthy and delicious lunch and dinner meals as well as tasty low carb snacks and desserts. People who are new to dieting have the chance to learn more about different diets, the benefits of low carb nutrition, proper food choices, and ways to diversify one's menu and avoid diet boredom. The website offers creative cooking ideas for special occasions and tips for daily meal planning. Dieters learn how to make healthy lifestyle choices and stick to their diet of choice. What is more, LowCarbDietGuide.org helps dieters to come up with healthy and tasty alternatives to pre-packaged foods, which are loaded with carbohydrates and unhealthy additives.
About LowCarbDietGuide.org: LowCarbDietGuide.org is a website created by Art Branch, Inc., focused on helping dieters around the world to learn more about the low carb lifestyle.
About Art Branch: Art Branch, Inc., located in Toronto, Ontario, is the parent company of LowCarbDietGuide.org and has produced many consumer oriented websites targeting worldwide audience. The goal of Art Branch is to provide visitors to company sites with free, practical guides, helping consumers to make educated choices.