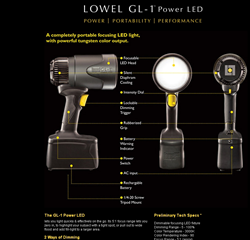 Lowel GL-1 compact battery powered LED light that's ideal for the wedding, event, location portrait and architectural photographer. It's based on an original concept by noted Wedding Photographer Brian Marcus
NYC, NY (PRWEB) April 24, 2013
The Lowel GL-1 Power LED compact handheld light source is ideal for any type of event or location photography that demands portability, flexibility and ease of use. The GL-1's ergonomic appeal is readily apparent, from the rubberized exterior to the lockable trigger that enables dimming from 5.0-100%. The removable, rechargeable battery is located at the base for precise balance and its flat underside and low-profile feet allow placement on a table or other flat surface. There is also a 1/4"-20 threaded socket for tripod mounting.
The GL-1's flexible qualities begin with the focusing head with a 5:1 spot-to-flood ratio that allow photographers to back light or hair lightones subject or pull back to add some fill light when needed to open up the shadows. The trigger-controlled dimming and a thumb-operated light intensity dial allows 1 hand operation for multi-tasking scenarios. The Lowel GL-1 includes the light head, battery, multi-voltage charger and AC adapter. Its 3,000K output can be cooled to 5,300K for use in daylight with the purchase of an optional filter.
Two Ways of Dimming – 1) Use the adjustable Dimming Trigger to quickly achieve the perfect light level for short-term handheld use; 2) Lock the light ON and dial in intensity for longer-term constant output at any level, perfect for mounted use or time lapse "Light Painting"
Silent Diaphragm Cooling – Eliminates distraction while shooting in quiet moments
1/4-20 Screw-Thread on GL-1 Base – Provides option for tripod/stand mounting for longer term lighting setups
Lowel GL1 Power LED Specifications
• Dimmable focusing LED fixture
• Dimming Range – 5-100%
• Color Temperature – 3000K
• Color Rendering Index – 90
• Focus Range – 5:1 (approximate)
• Output Reading at 5 feet, full spot: 398-foot candles
• Output Reading at 5 feet, full flood: 73-foot candles
Lowel GL1 compact battery powered LED light is ideal for the wedding, event, location portrait and architectural photographer. It's based on an original concept by noted Wedding Photographer Brian Marcus.
Marcus has photographed the weddings of Eddie Murphy, Donald Trump, Ivanka Trump, Kelsey Grammer, Mary Tyler Moore, Princess Yasmin Aga Khan, Billy Baldwin and Chynna Phillips, among others.
B&H Photo is currently accepting pre-orders on the Lowel GL-1 Compact Battery Powered LED Light
About B&H Photo Video
As the world's largest source of photography video and audio equipment, B&H Photo-Video is known worldwide for their attentive, knowledgeable sales force, and excellent customer service, including fast, reliable shipping. Visitors to the website can access a variety of enlightening articles and educational videos. B&H has been satisfying customers worldwide for close to 40 years.