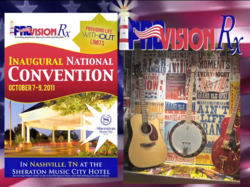 "Our first national conference is a historic event." - Lowell Mims
Nashville, Tennessee (PRWEB) September 29, 2011
Lowell Mims and Ernie Land announced the first ever National Convention of ProvisionRx on October 7 – 9, 2011 at the gorgeous Sheraton Music City Hotel in Nashville, TN. The convention coincides with the 86th Birthday Celebration of the Grand Ole Opry. ProvisionRx will honor the Grand Ole Opry by using its theme throughout the convention.
The Inaugural National Convention will bring together ProvisionRx top leaders from all over the United States for a comprehensive overview of the rapidly expanding company. To date, ProvisionRx has saved American consumers over five million dollars on prescription medication in its first year alone.
The Convention's theme is Providing Life Without Limits. The company's mission is to build a Fortune 500 corporation that features one of the most lucrative marketing plans in America.
"Our first national conference is a historic event," said Lowell Mims. "Our Independent Business Owners will showcase their efforts and ardent desire to help those in their communities save 10%-75% on most prescriptions. The conference will cover topics relevant to the pursuit of our overall vision to place our pharmacy discount card into the hands of every person in America. This is one way we are making an impact on our country's health care crises. At the close of the convention, we fully believe that every attendee will realize that their life will never be the same again."
Ernie Land commenting on the agenda, "Our first year's keynote speakers will include Dr. Ron Mueller, James Wood and Gary Eby. Dr. Mueller's expert advice on tax savings will teach our IBO's that "the more you know, the less you owe." Mr. Wood's address will feature the strategy of staying the course in business, "after three decades of yesterdays, we know our future remains bright." Finally, the highly acclaimed international motivational speaker Mr. Gary Eby will share his insights about "Vision, Integrity and Diligence: Providing life Without Limits."
The ProvisionRx Convention will also feature country music look-a-likes, a live country music band, an innovative dream building session in a photography green room, learning sessions from top earners and builders and three of the industry's best keynote speakers. It will also include a State of the Company Address, by Lowell Mims and Ernie Land, breaking news announcements and an awards presentation. All attendees are invited to a Sunday Morning Nondenominational Church Service.
The ProvisionRx Inaugural National Convention will prove to be a life changing and historical event of which thousands of registered guests await with high anticipation.
# # #