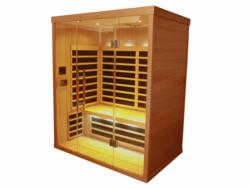 Finnleo President, Keith Raisanen, said, "...The combination of luxurious design and patent pending technology provides the first and only saunas that have radiation levels below the Swedish standards..."
Cokato, MN (PRWEB) January 31, 2012
Finnleo introduces a line of new Low EMR/Low EF Infrared Saunas. EMR (Electro-Magnetic Radiation) and EF (Electrical Field Radiation) have been reported to have potentially negative effects on a person's health.
With increased energy efficiency and low EMR/low EF, the new infrared saunas provide a healthier sauna experience with a lower impact on your energy bill. Available in 7 models, the patent pending Infrared Saunas are the only infrared saunas in the world that are better than the Swedish standards for EMR and EF.
With a full glass front providing a more open, modern look, these feature-rich infrared saunas include a touch screen control, Finnleo SaunaTone™ speakerless sound system, tri-modal lighting system (valance lighting, recessed ceiling reading lights, and color light therapy), Gentle Balance™ system to reduce temperature stratification within the sauna, and improved heating efficiency to reduce wattage used by more than 20%.
When asked about the new product, Finnleo President, Keith Raisanen, said, "We are very pleased to introduce these saunas with features requested by our health-conscious customers. The combination of luxurious design and patent pending technology provides the first and only saunas that have radiation levels below the Swedish standards (i.e. less than 2 milligaus EMR and less than 8 volts per meter EF). The new S-series provides a soothing sauna experience with maximum comfort and safety."
To learn more about the Low EMR / Low EF Infrared Saunas, visit our website, call 1-800-346-6536, or visit your local Finnleo dealer
###