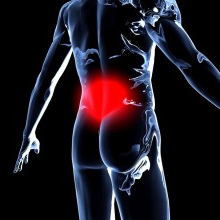 Dr. Allen's Device is the first successful solution for lower back pain relief and, moreover, it is widely affordable.
London, UK (PRWEB) June 04, 2013
Men and women can beat lower back pain and sciatica by using Thermobalancing therapy without resorting to painkillers, medications and different surgical procedures. The importance of Fine Treatment's recommendation is obvious as conventional treatment options, such as painkillers, medication or surgeries, often have different adverse side effects. Moreover, soon another range of pills can become responsible for an increase in additional health problems experienced by people with back pain, as a recent Danish study has declared that antibiotics are able to help, highlights Fine Treatment.
According to the article in WebMD titled 'Antibiotics May Relieve Back Pain Symptoms', the latest studies from the University of Southern Denmark build on previous research showing that between 7% and 53% of patients with herniated discs have a type of bacteria. In these patients the bacteria entered the disc at the time it was herniated, or "slipped."
Therefore, the research team recruited 162 patients who had been living with low back pain for more than 6 months following a slipped disc. Half of the patients were given a 100-day course of antibiotic treatment, while the others received a placebo. After a 1-year follow-up period, those who'd taken antibiotics were less likely to still have lower back pain and physical disability. They were also less likely to have leg pain and to have taken days off work because of their back.
While these results seem positive, latest articles underline the damaging effects of antibiotics, particularly in the long-term. For instance, a news article on 'Antibiotics: A new understanding of sulfonamide nervous system side effects' in Medical-Press says, "Since the discovery of Prontosil in 1932, sulfonamide antibiotics have been used to combat a wide spectrum of bacterial infections, from acne to chlamydia and pneumonia. However, their side effects can include serious neurological problems like nausea, headache, dizziness, hallucinations and even psychosis. In a recent Science publication, EPFL researchers have shown for the first time how sulfonamides can interfere with a patient's nervous system."
Thus, on one side antibiotics may help but, on the other side, their users may develop serious health problems. In contrast, Fine Treatment recommends absolutely harmless Thermobalancing therapy. It is enabled by a unique thermo-element – a key part of Dr. Allen's Device, which is to be placed over the painful area on the back. That's it! Please watch a video on how to use Dr. Allen's device for lower back pain and sciatica relief: http://www.youtube.com/watch?v=6WwI1TvlXOs.
"The natural thermo-element covers a painful area in the lower back and works by relieving pain gradually, with absolutely no complication to follow," says Dr. Simon Allen. "Dr. Allen's Device is the first successful solution for lower back pain relief and, moreover, it is widely affordable."
For more information, please visit the Fine Treatment website:
http://finetreatment.com/lower-back-pain-treatment-lumbago-relief/.
About Dr. Simon Allen and Fine Treatment:
Dr. Simon Allen is a highly experienced medical professional. His specialty is in the internal medicine and cardio-vascular field. He has treated a wide range of chronic diseases, including patients after a heart attack, with kidneys problems, including kidney stones disease, prostate and spine conditions, as well as metabolic disorders. Fine Treatment exclusively offers Dr. Allen's devices for chronic prostatitis and BPH treatment, coronary heart disease, dissolving kidney stones, as well as back pain and sciatica.