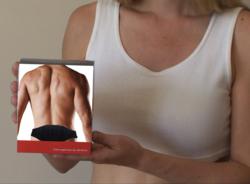 Dr. Allen's therapeutic devices are affordable and provide a natural way to relieve back pain and BPH symptoms without resorting to painkillers and drugs.
London, UK (PRWEB) July 04, 2012
An early application of the natural treatment with new Dr. Allen's devices for lower back pain and sciatica, as well as for benign prostatic hyperplasia (BPH), may prevent devastating complications associated with potentially harmful medications and surgeries, Fine Treatment reveals. If these disorders are untreated, they progress to some extent, and long-term courses of medications or even surgeries are proposed. That is why many researches recommend using natural treatment options as soon as the symptoms of these conditions appear.
For instance, according to a recent 'best for back pain' article in Pulse Today, titled Early Physiotherapy Referral, reviews a study of Dr. Julie Fritz from the University of Utah, "Early physical therapy following a new primary care consultation was associated with reduced risk of subsequent healthcare compared with delayed physical therapy. They found patients who saw a physiotherapist within 14 days of visiting their GP were 74% less likely to visit a doctor again, 55% less likely to require major surgery and 58% less likely to require lumbar injections, when compared to patients receiving physiotherapy after 14 days."
The absence of effective natural treatments for prostate enlargement have previously led to an intensive intake of medications. But it's a harsh approach when considering overall health and wellbeing. According to the lead researcher Abdulmaged M. Traish from the Boston University School of Medicine, almost all patients taking Propecia or Avodart experienced some degree of decrease in their sex drive. In certain patients, these side effects were grave enough to lead to depression. And only few patients taking these medicines experienced sexual side effects which were irreversible in nature.
"Before Dr. Allen's devices or Thermobalancing Therapy has been introduced, the BPH patient will just have to calmly accept the fact that it's drugs, surgery or bust!" says Nino R. Alinsub, Medical Technologist from The Philippines. Unlike BPH drugs, Dr. Allen's therapeutic device treats the prostate naturally. Please watch the video: h http://www.youtube.com/watch?v=dCFy_jZgCLw.
"Prevention of health problems is an important matter that has become possible with the use of the Thermobalancing Therapy which does not require any harmful medications," says Dr. Simon Allen. "Dr. Allen's therapeutic devices are affordable and provide a natural way to relieve back pain and BPH symptoms without resorting to painkillers and drugs."
Read more at
http://www.finetreatment.co.uk/prostatetreatmentbph/prostatitistreatment.html.
About Dr. Simon Allen and Fine Treatment:
Dr. Simon Allen is a highly experienced medical professional. His specialty is in the internal medicine and cardio-vascular field. He has worked on a wide range of chronic conditions, treating patients after a heart attack, with kidneys problems, including kidney stones disease, prostate and spine conditions, and metabolic disorders. Fine Treatment exclusively offers Dr Allen's devices for the treatment of chronic prostatitis and BPH, coronary heart disease and to dissolve kidney stones, as well as provide lower back pain relief and sciatica treatment.